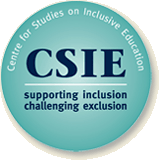 Centre for Studies on Inclusive Education
supporting inclusion, challenging exclusion
>
news from 1997
January
Alan Milburn, North Yorkshire County Council's head of pupil and parent services gives an assurance that although the proposed closure of Welburn Hall Special School will be cost effective, 'we would not consider it if we did not think it would be the best thing for the children in the long run'. The wife of the managing director of a major chain of North East Stores, Mrs Maggie Boyes, whose daughter Janet attends Welburn, is the latest to make her views known against the closure plan. She says the family will not be able to cope if the school closes as part of a re-organisation of special school provision by North Yorkshire County Council.
Darlington Northern Echo, January 2, 1997
Broxbourne Secondary School in Lea Valley, Hertfordshire expects to have two lifts installed by May. The stair-walking wheelchair previously used by disabled pupils is so old it is beyond repair and in any case it takes 20 minutes for it to negotiate steps to the upper floors. Margaret McKenzie, head of learning support at Broxbourne, said: 'Things just weren't good enough. The lift will make life so much easier for disabled pupils. They are one more thing to improve access.'
Hoddesdon and Broxbourne Mercury, January 31, 1997
The parents of Jacob Smith, one of many pupils being integrated from Barnardo's Princess Margaret School, Taunton, say that Somerset Education Authority has let them down. Angie and Marcus Smith want Jacob, who has cerebral palsy, to go to his local secondary school but the LEA say he must travel to a school which has been especially adapted for disabled pupils. Somerset's deputy education officer, John Rose, said: 'We have put up £200,000 in the past year to adapt schools and it is an on-going programme but we can't do every school because we do not have the resources'.
Somerset County Gazette, January 31, 1997
---
February
North Yorkshire County Councillors have voted against the possible closure of Welburn Hall Special School and instructed officers to market the school better and seek ways to develop its role. The decision is being hailed a victory by parents, staff and governors who mounted a letter-writing and lobbying campaign to save the school. The school's future was put in doubt because of falling pupil numbers. Council officers said the school roll had dropped to 38 because parents were opting for their children to go to mainstream schools.
Scarborough Evening News and Mercury, February 12, 1997
Gordon and Patricia Spendiff have had their appeal against a decision to send their daughter to a special school heard in the High Court. The family decided to take their fight to the High Court after a special educational needs tribunal agreed with North Tyneside Council's decision that Joanne, 13, should leave mainstream education after being there for nine years. An independent psychologist backed the family's case, saying a forced move to special school would harm Joanne. The family's solicitor, Mr Jack Rabinowicz, said: 'We are not trying to change the system - we are trying to aid the process. I believe it is the first time this particular tribunal decision has been challenged in the High Court'.
Newcastle Upon Tyne Journal, February 14, 1997
Jade McBride and Leigh James are the first pupils with visual impairment to attend Pencoed Comprehensive School near Bridgend. They are able to join in lessons with the help of large print worksheets and closed circuit television to enlarge maps and diagrams. Talking weighing scales, special computer software and extra help in science and technology lessons means the girls do not miss out on anything.
South Wales Echo, February 14, 1997
David and Denise Walker have set up the Sam Walker Fund to raise money for a classroom assistant for their six-year-old son. The couple have the backing of staff, parents and pupils at St Wilfrid's Roman Catholic School at Hartford but Cheshire Education Authority have refused to fund mainstream support for Sam and want him to go to a special school. St. Wilfrid's head teacher Peter Barratt said he was disappointed with the educational authority's decision . 'I am delighted to have Sam here. He is progressing well and the rest of the children have accepted him without any difficulty whatsoever. They see him as one of the class, and are very supportive and helpful. If his needs are being satisfied here, as they are, why does he need to go to a special school?'
Northwich Chronicle , February 26. 1997
---
March
National Union of Teachers' president, Carole Regan, has praised work in Shropshire to help children with hearing impairment. Ms Regan went to Meole Brace School in Shrewsbury and Cockshutt Village School near Ellesmere to look at the work of the Hearing Impaired Service. It is Shropshire Education Authority's policy to integrate children with hearing impairment into mainstream schools where possible.
Shropshire Star, March 5, 1997
Six year-old Jamie Brown, who has Down's Syndrome, won his case against Doncaster Metropolitan Borough Council. The Special Educational Needs Tribunal ruled that the Council should provide a full-time special needs assistant at Sandringham Primary School, rather than sending Jamie to a special needs school.
Local Government Chronicle, March 7, 1997 .
Parents fighting for the right to educate their daughter at the school of their choice last night pledged to keep up their battle despite a defeat in the courts. Patricia and Gordon Spendiff, of Murray Road, Wallsend, said they would stand by 13-year-old Joanne's wishes to stay with her friends and would not send her to a special school. They will continue to teach her at home while they consider their next legal move. At the High Court in London, Mr Justice Hidden ruled that Joanne would be better served by attending a special school. He said North Tyneside Education Authority was under no obligation to integrate Joanne into mainstream schooling.
Newcastle Upon Tyne Journal, March 15, 1997 .
Anxious parents of a disabled six-year-old say she is missing out on vital physiotherapy and help with her speech. Kerry and Neil Burrows say they are pleased that Samantha, who has cerebral palsy, attends an ordinary school but feel the health service is not making adequate provision for her in the mainstream. Newham education chiefs met last week with Newham Community Health Service's Trust to see what could be done.
Docklands Recorder, March 19, 1997
Labour has promised to cut red-tape for parents who are seeking help in mainstream schools for children with special needs. Shadow Education Minister, Peter Kilfoyle, promised baseline assessment to identify needs early, followed by targeted intervention from parent and health and social services.
Newcastle upon Tyne Journal, March 19, 1997
A five-year-old blind boy has inspired many of the 11 and 12 year olds at his school to learn Braille. Charles Coyle, a popular member of St Joseph's RC School in Dobbin Close, Harrow, is the first blind pupil in the area to attend a mainstream school. Thirty children agreed to learn Braille and have earned certificates for their national achievement folders. Headmaster Anthony Elfer said the entire school had gained from the experience of having Charles there.
Harrow Observer, March 27, 1997
---
April
The two biggest teaching unions yesterday backed their members' right not to teach the most disruptive pupils. The National Association of Schoolmasters and Union of Women Teachers called for a reversal of 'inclusive' education. And the National Union of Teachers for the first time on a national level backed its members' right to take action rather than teach violent children. Both unions have throughout the year been at the centre of a number of crises as the rising tide of classroom disruption has hit the headlines. However, the debate at the NUT's annual conference also brought cries from some that disruptive children were damaged and must not be demonised.
Darlington Northern Echo, April 2, 1997
Although Cheshire County Council believes six-year-old Sam Walker should be at a special school, friends, neighbours, schoolmates and teachers are organising a series of fund raising activities to pay for an educational assistant to help him at his local mainstream school. Sam's elder brother Daniel, 14, who is also disabled, used to attend St Wilfrid's Primary School in Barnton, Northwich, and according to his parents it was 'like a light was switched on' because of the friendships he made not only with classmates but with their families too. However, while Cheshire County Council funded the classroom assistant for Daniel several years ago, it cannot do so for Sam due to severe budget cuts. The head teacher of St Wilfrid's, Peter Barratt said: 'Sam is a little belter and we are convinced this is the right place for him'.
Liverpool Daily Post April 10, 1997
A motion calling for the suspension of the integration of children with special needs until adequate resources were made available was described as 'very offensive and a disgrace' during a teachers' conference in Dublin. Mr Finian McGrath, Dublin City North, said the blame should be laid before the Department of Education not on the children and their parents. Ms Sheila Nunan said the motion was regressive, anti-child and anti-integration. Industrial action was necessary to secure the necessary resources.
The Irish Times Dublin, April 3, 1997
A plan to integrate disabled children into mainstream schools is being stalled because head teachers appear unwilling to accept students with physical or mental disabilities. The Hong Kong Government Education Department has received an annual budget of 20 million HK dollars to invite school to accept up to six students with physical or mental disabilities together with extra teachers and grants. But after a month contacting schools for a pilot programme to start in September no head teacher has confirmed the enrolment of any disabled child in the new term.
South China Morning Post, April 12, 1997
A new unit at Hylton Red House Primary School in Sunderland serves children throughout the city with different kinds of communication problems. The unit, which cost £23,000, is part of Sunderland Council's drive to improve facilities for youngsters with special educational needs. Beverley Watts, mother of Christopher, 11, said her son had difficulties in mainstream class but his language skills and communication had 'taken off' in the unit. Although he was given help in the class, his inability to communicate for so long caused by a hearing problem, had meant he couldn't catch up. 'They did everything they could for him. But he couldn't cope with the intensity of the one to one sessions and he couldn't keep up in the class. He started to hate going to school.' Pupils in the unit join mainstream classes for some lessons and the goal is to return to mainstream class full-time.
Sunderland Echo. April 29, 1997
---
May
Mounting concern by parents of children with special educational needs has prompted Pembrokeshire County Council to review its special needs policy. The parents and the trade union, Unison, which represents care assistants in schools, have become increasingly concerned about a council decision to cut costs. They say they fear the cuts will force schools to cut care assistant hours or take on less qualified helpers. However, the Director of Education, Gerson Davies, said no children would be adversely affected. Extra money had been put into the special needs budget, although it would be distributed differently. The Council had identified six children whose needs would not be met by the new financial new arrangements and would draw on its reserves in order to support them.
Cardiff Western Mail, May 9, 1997
A Dartford primary school has admitted it did not include a child with Down's Syndrome in its results for the national performance tables. St Anselm's RC Primary school in Littlebrook Manorway, Temple Hill, Kent topped the list of Dartford schools in the recently published tables. But it left out statemented pupil Christopher Diedo's Key Stage Two results. Christopher's father brought the omission to the attention of the school which said it did not realise it had to publish his son's results. A special errata slip will now have to be published to amend the results in the current tables. St Anselm's now drops one point in the tables to share top place with Fawkham Primary School.
News Shopper Dartford and Swanley, May 14, 1997
Carole Udale claims a lack of funding is wrecking her disabled daughter's opportunities in mainstream school. She says Claire, 12, has suffered a string of problems since starting at Whickham Comprehensive School in Gateshead. The pressure group Disability Action North East says little is done to address access to mainstream schools for disabled children, despite the recent Disability Discrimination Act.
Newcastle upon Tyne Evening Chronicle, May 12, 1997
Pete and Wendy Crane have lost their High Court battle for their son Niki, 14, to attend Tarleton High School. But despite the ruling by Mr Justice Popplewell they say he will never attend a special school. The family could face bankruptcy after the judge awarded costs against them. If enforced the bill could run up to £50,000. The case was being seen a bid to clarify the law with implications for other families.
Lancashire Evening Post, Preston, May 13, 1997
The argument between the Cranes and Lancashire County Council turned on key sections of the 1996 Education Act and the right of parents to choose the best school for their child. Mr. Justice Popplewell ruled that parental choice should be overridden on the grounds that the comprehensive school was 'unsuitable' for Niki, that the education of other children could be disrupted and that the expense of meeting his special needs there would not be cost effective.
The Guardian, May 13, 1997
Parents of a young man with autism who was taunted by a group of youths have called for more integration to try to save children from similar situations. Mark Taylor, 14, who attends New Croft High special school in Seedley, Salford was urged to jump out of a window by youths who were said to have no understanding of his disability.
Manchester Evening News, May 15, 1997
The new Labour Government announced a further £3.6 million funds under the Schools Access Initiative. Education Minister Estelle Morris explained: 'The Government is committed to the principle that, to the greatest extent possible, children with special educational needs should be integrated with peers. Everyone should be entitled to an education which meets their needs and gives them the opportunity to succeed'.
Harrow Observer, May 29, 1997
---
June
The mother of a 12-year-old girl with severe learning difficulties has been awarded £4,000 compensation because Staffordshire County Council took too long to assess her daughter's educational needs. The Local Government Ombudsman criticised the authority for spending more than two-and-a-half years compiling information about the girl and her 'complex difficulties'.
Birmingham Post, June 7, 1997
Haringey Council has described government grants to improve school access for disabled pupils as a 'drop in the ocean'. Haringey say they need millions - not thousands - to make designated schools accessible to all pupils.
Wood Green and Tottenham Weekly Herald, June 11, 1997
Education Secretary David Blunkett is to be asked to keep a Tyneside girl with special needs in a mainstream school. Jemma Jessop's parents, Valerie and Les, will ask Mr Blunkett to give more rights to parents like them to pick their daughter's school. The couple are fighting proposals by North Tyneside Council to take Jemma out of St Peter's Primary in Wallsend and send her to a special school.
Newcastle upon Tyne Evening Chronicle, June 13, 1997
The mother of a three-year-old disabled girl has been told she must pay £7,000 if she wants her daughter to attend her village school. Juliet Palmer wants Zoe to go to her local school so she can be with all her friends. But Suffolk County Council says it cannot afford to adapt a toilet door, install two wheelchair ramps and install a chair lift for her at Thurston Primary School, near Bury St Edmunds. Council officials have said they can only take Zoe if her family pays the £7,000 cost of the work.
The Express, June 17, 1997
A mother has been awarded £5,000 compensation after an eight-year battle to get her disabled son into a mainstream school. Rahila Gupta was forced to wait too long while Brent Council decided whether or not her son Nihal could be taught alongside able-bodied youngsters, according to an investigation by local government ombudsman Edward Osmotherly.
Wembley and Brent Times, June 26,1997
---
July
In the High Court, Mr Justice Dyson ruled that Solihull Council acted unreasonably by refusing to provide finance for the education of a pupil with autism on the grounds that the family 'pre-empted' the situation by providing funds themselves by organising discos, raffles and other charity events. He said it was unreasonable for the authority to relieve itself of its statutory duty by relying on parents to raise finance in this way. However, Mr Dyson ruled against two other cases of pupils with autism seeking LEA backing to attend special schools in America. In a statement a spokesman for Solihull Council said the High Court cases had been about points of law and not the educational needs of the children involved.
Birmingham Post, July 9, 1997
Parents of five-year-old twins Dale and Ryan Jackson are blaming bureaucratic delays by Bradford Education Authority for keeping their children out of school. The twins were due to start Allerton First School in January but the LEA is still considering the amount of specialist support which the boys will need. Mrs. Jackson said: 'We are waiting and waiting to see what is going to happen. The LEA has had at least 12 months to sort this out but we are just getting no further.'
Bradford Telegraph and Argus, July 16, 1997
---
August
More disabled children are being educated in ordinary schools, according to the most recent statistics. A report by the Centre for Studies on Inclusive Education, based on Department for Education and Employment data, shows that between 1992 and 1996, 71 out of 107 English local authorities reduced the percentages of pupils placed in special schools. In 1996 the special school population declined to 88,849 or 1.4 per cent of all five to 15-year-olds, the lowest ever percentage for England. In the same year, 58.5 per cent of all children with statements were being educated in mainstream schools.
Times Educational Supplement, August 1, 1997
A new guide to help teachers cope with the everyday school needs of disabled children in mainstream has been launched by RADAR. Titled Children First, the guide offers help on planning an accessible curriculum, physical access of schools, valuing the contribution of parents, social needs of pupils, examination arrangements, and post-16 provision.
The Bath Chronicle, August 5, 1997.
A 12-year-old Nottingham girl with cerebral palsy has gone to County Hall to protest about being restricted from school classes. Maresa MacKeith, of Beechdale, was spending only about five lessons a week in mainstream classes last term. Her school, Colonel Frank Seely in Calverton, insisted it was gradually increasing her integration with other pupils in line with her abilities but that had not satisfied Maresa. Yesterday she met Nottingham Education Director, Rob Valentine, to demand more action. She was accompanied by other members of the national pressure group Young and Powerful which campaigns for the rights of disabled young people.
Nottingham Evening Post, August 29, 1997
---
September
Education chiefs have still to appoint head teachers for two crisis-hit Tyneside special schools which failed recent OFSTED inspections. A report criticised management and teaching at Margaret Sutton School in South Shields and management techniques were also criticised at Epinay School in Jarrow.
The Journal, Newcastle, September 2, 1997
In a letter on the exclusion from mainstream school of five-year-old Nadia Clark the Development Worker for Disability Action North East, David Colley, says the argument is not about Nadia's ability following professional advice. 'It's about her civil rights to the same choices as other citizens.' According to Mr Colley, it is possible for professional opinion to be used to justify the 'most appalling discrimination against disabled people'.
Newcastle upon Tyne Journal, September 8, 1997
Abbey School Autism Unit, the first of its kind in East Kent, will take up to a maximum of 16 students taking the full curriculum up to GCSE and possibly beyond to sixth form studies. The youngsters will be encouraged to attend mainstream classes in the main school as appropriate but headmaster Mr Peter Walker said there would be no pressure to attend.
Faversham Times, September 10, 1997
Winchester MP Mark Oaten is backing a family's' struggle to get their son moved from a special school for children with emotional and behavioural difficulties to a mainstream school with a special unit for children with dyslexia. Graham House, from Stanmore, Hants, says his 12-year-old son, Leslie, is not getting the education he needs at the special school. He said: 'Leslie's problems are from his dyslexia. He should not be there and we want him moved'. A County Council spokesman said it shared the aim of moving Leslie to a mainstream school but felt he was not yet ready.
Winchester Gazette Extra, September 11, 1997
A woman who sued her former schools for failing to recognise her as having dyslexia claiming that they condemned her to a life of 'temporary menial' jobs has won £45,650 damages in the High Court. The court was told that teachers failed to appreciate that Pamela Phelps, now 23, suffered from word blindness and put her failure to read and write down to being lazy and unenthusiastic. Mr Justice Garland found the London Borough of Hillingdon, as her education authority, guilty of a breach of the duty of care they owed her to give her the best start in life.
London Evening Standard, September 23, 1997
Kent County Council says that sending three-year-old Piers Mepsted to Higashi Centre in Boston, USA, will entail unnecessary public expenditure. Piers has autism and his parents say he is making tremendous progress at Higashi and will regress if he is placed at a nursery in Dartford as recommended by the County Council. According to a spokesman the cost of sending Piers to Higashi is equivalent to the annual running costs of an average size nursery unit in this country. 'We believe all Pier's needs can be fully by the Dartford School nursery and that he would make similar progress to that which he is making at Higashi.' The case is expected to go before a Special Needs Tribunal early next year.
Medway News (Chatham Rochester and Gillingham News) September 26, 1997.
---
October
Cumbria County Council is being asked to back an investigation into why the number of children labelled as having severe learning difficulties has doubled in three years. There are 551 Cumbrian children classed as having severe or profound learning difficulties compared with 224 in 1994, according to a report by special needs manager, Michael Watmough.
Cumberland News, October 3, 1997.
Governors at a North London comprehensive school have pleaded for a limit to the number of new pupils admitted each year because of wheelchair bottlenecks in the corridors. This year 25 physically disabled children were integrated into Northumberland Park Community School, Haringey, London, where there are already 11 pupils in wheelchairs. Owing to the high number of wheelchair users a one-way system has been introduced in corridors to ease congestion.
Wood Green and Tottenham Weekly Herald, October 15, 1997
The Government's Green Paper announces that more children with disabilities or learning problems are to be taught in mainstream classrooms in the biggest shake-up of special need provision for 20 years. David Blunkett, the Education Secretary, said the Government wanted to speed up the integration of children with special needs which had been the trend in recent years. 'There is a forgotten army of 1.5 million children with some degree of special needs, many of whom would be able to flourish perfectly independently if the support was provided at the right time and in the right way.' Mr Blunkett, who was himself educated in schools for the blind, said special schools catering for children with more severe problems would remain an option for parents. However, he envisaged a system in which local authorities would have a duty to offer a place in mainstream schools to all parents who wished it. The number of special schools in UK has fallen and the proposal in the Green Paper Excellence for all children. Meeting Special Educational Needs are likely to lead to further closures.
The Daily Telegraph, October 23, 1997
Hearing children at Bransty Primary School, Cumbria will use new signing dictionaries at their Tuesday afternoon signing club, thanks to a national award. The school won £150 in the Education Extra Awards which are given to schools which run successful after-school. activities. The club helps the school's hearing children communicate with their hearing-impaired classmates.
Whitehaven News, October 23, 1997
A representative of DAN, the Disabled People's Direct Action Network, called on the Government to meet the costs of implementing the Green Paper on special educational needs. In a letter Mr D. Andrew Coldwell said disabled people and council tax payers are fed up with costs being passed on to local authorities.
Huddersfield Daily Examiner, October 24, 1997
Permanent exclusions from schools are continuing to increase according to official figures out today. In 1995/96, 12,500 pupils were excluded from English primary and secondary schools, 13 per cent up on the previous year. Education Minister Estelle Morris said the figures for exclusions were too high. 'While schools still need the ultimate sanction of exclusion, LEAs and schools must look at all options for dealing with behaviour problems,' she said.
Halifax Evening Courier, October 30, 1997
Education chiefs in Nottingham have agreed to review the progress of a 12-year-old girl Maresa MacKeith, of Beechdale. Maresa fought for three years to be transferred from a special school to a mainstream school and now she and her mother Caroline are demanding that she be properly integrated into classes at Colonel Frank Seely School at Calverton. Yesterday Maresa and members of Young and Powerful, the national pressure group for disabled young people again met Nottinghamshire Education Director, Rob Valentine.
Nottingham Evening Post, October 29, 1997
---
November
Many of Derbyshire's 80 primary and 15 secondary schools are not fully accessible for disabled children because of lack of money, says the Derbyshire Education Authority. Education Officer Eric Toyne said the authority was enthusiastic about inclusion and wanted to provide access but the key was money. 'This year we have £15,000 to make adaptations. Converting a toilet for use by a disabled person can cost £5,000 or building a ramp access can be as much a £4,000. The money won't go very far.'
Derby Evening Telegraph, November 7, 1997.
Thirteen-year-old Emma Hill is the only child with Down's Syndrome at a Buckinghamshire mainstream secondary school. But the achievement was hard won. Last year Emma was parted from all her friends when six weeks into term she was asked to leave Holmer Green Upper School. For seven months Emma was taught at home while her mother Susan tried to find a secondary school which would accept her. But now Emma is happy at Sir William Ramsay Secondary School, Hazlemere. A spokesman for Buckinghamshire County Council said: 'There are 23 children with Downs Syndrome in mainstream primary and middle schools who are supported by special teachers. Emma, however, is the only child in secondary school.'
Bucks Examiner (Chiltern), November 14, 1997
Teacher union chief Nigel de Gruchy has vowed to step in if members object to special needs pupils returning to their classrooms from a school marked for closure. The national general secretary of the National Association of Schoolmasters and Union of Women Teachers, said he was keeping a close eye on plans to close Derringham Special School in Priory Road, Kingston upon Hull. He said he would not hesitate to step in and call for pupils' exclusions if members could not cope.
Hull Daily Mail, November 14, 1997
A Lincolnshire village secondary school has hit back at critics after it came bottom in the area's schools exam results. Lafford High School, Billinghay, Lincolnshire is among the bottom 100 schools in the country, but parents are rallying round their youngsters' teachers. Lafford acting head, Kathy Farmer, defended the result by pointing out that her school was an all ability school in an area where up to 35 per cent were selected for grammar schools.
Sleaford Standard, November 20, 1997
A top voluntary-aided school has come under fire for refusing a partially sighted Fulham, London girl a place, on the grounds that she would be a danger to other children. Annie Chesney, aged 11, from Elbe Street, Fulham, was refused admission to Lady Margaret Comprehensive School in Parsons Green. When her mother appealed to the governing board she was told Annie would be a danger in the school and that her education would be at the expense of other pupils. A letter from the headmistress said: 'We do not feel we could provide appropriate secondary education in the school without prejudice to the efficient' education of other children.'
Fulham Chronicle, November 27, 1997
---
December
Derringham Special School in Kingston-upon Hull should close down by the end of the academic year, according to a local education authority report. The report reveals that the head of another special school could not be persuaded to act as a caretaker head when Derringham fell under special measures following a failed OFSTED report earlier this year.
Hull Daily Mail, December 1, 1997
A Manchester school has been awarded top marks for providing special education. Newall Green High in Wythenshaw features in the Department of Education's Green Paper. It was selected as an example of good practice after officials found it successfully integrates pupils who have physical and severe learning difficulties.
Manchester Evening News, December 1, 1997
Parents of autistic children in York are drawing up proposals for a specialist unit in the city where their youngsters could receive the one-to-one help with their education. The most likely form the new unit would take is an annex attached to a mainstream school in the city, where small groups of autistic children could be taught. York's new autism development worker, Glynis Bevan, is consulting with parents before proposals will be presented to a multi-agency meeting of health and education officials in the spring. Most of York's 50-plus autistic children go to special schools in York, or are taught in mainstream schools with extra help. Shan Oakes, York's special needs development worker, said: 'It's a good idea. It is something we should be considering and I think it does look optimistic.'
Yorkshire Evening Press, December 2, 1997
Birmingham MP and Education Minister, Estelle Morris denied that troubled children were being dumped in mainstream schools to save money. The Minister insisted that a new multi-million pound effort to make mainstream schools more rewarding for special needs pupils had no 'hidden agenda'.
Birmingham Evening Mail, December 5, 1997
The Government has announced a boost of £11 million to help mainstream schools become more accessible to special needs children. Estelle Morris, the Schools Minister, told MPs that the almost threefold increase on the £4 million set aside by the previous administration for the Schools Access Initiative was the most that had ever been spent in any one year.
The Independent, December 6, 1997
A ground-breaking project to introduce disabled youngsters to sport has been set up in the Grimsby area. The Helping Hand Scheme enables children with special needs to receive tuition at home before being integrated into mixed ability classes. To date six youngsters have started the programme which will see them joining a group of 40 others at Wellholme Saturday Morning Club in Welholme Junior School. Organiser Margaret Jackson set up the club with a £64,000 Lottery award in May.
Grimsby Evening Telegraph, December 3, 1997
---