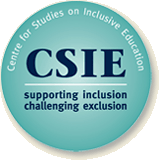 Centre for Studies on Inclusive Education
supporting inclusion, challenging exclusion
news from 1995
January
Great Barr Primary School, Birmingham, is praised by school inspectors for its success in integrating children with physical disabilities.The inspectors' report said pupils coped well, were motivated and suitably challenged.
Sutton Coldfield News, January 13, 1995.
Eleven-year-old Joanne Stamps settles in well at East Bridgewater Community School after a fight for her to continue her education with her friends. Family and friends who have been supporting Joanne helped her raise half the cost of a specially designed wheel-chair which can negotiate stairs. The school Governors agreed to loan £2,000 towards the outstanding cost.
Bridgewater Mercury, January 17, 1995.
Six-year-old Leanna Horne's parents were told she should go to a special school but decided to aim for mainstream. According to her mother it wasn't easy but once people saw beyond her disability they accepted her. She says Leanna "is doing most of the things any other six-year-old does only in smaller steps".
Woman's Realm, January 24, 1995.
Staff and pupils at St. Margaret's County Primary School in Torquay are learning sign language as part of an effort to make children with hearing difficulties feel more part of school life.
Herald Express, January 21, 1995.
A public fund is set up to raise money to install a lift at Ludlow School, Worcester, so that Kieron Seaborne can go there with his friends. The Town Council has donated £200 as a pump primer. It claims the attitude of the County Council, which says it can't afford a lift, is a "little inflexible". Coun. Alan Middleton said Kieron's case should be seen as a catalyst for change since there were four other children in the town who one day would be needing the same facilities. He argued that it was unfair that government policy encouraged choice in schools for able-bodied children but not for disabled children.
Ludlow Advertiser, January 26, 1995.
Ealing Council's special educational needs panel decides that seven-year-old Andrew Patterson can continue to receive welfare help in the mainstream. His mother who intends to take legal action to recover costs she has run up fighting for Andrew, says many other children still face cuts in mainstream support. Ealing Council denies that any cuts have been made to the special needs budget. Earlier it sent letters to 30 families proposing to cut special needs support, but later withdrew all the letters saying they were a "mistake".
Ealing Gazette, January 27, 1995.
A report by The Association of Metropolitan Authorities says schools are expelling disruptive pupils to safeguard their reputation or position in school league tables. The association said head teachers had reduced their "tolerance threshold" for bad behaviour because competition for pupils and funding was increasingly intense in the new education market place.
The Times, January 31, 1995.
---
February
Mrs. Beverley Doyle decides to keep her daughter Ashlee out of school after Solihull Council say she must leave a unit for children with moderate learning difficulties at Hatchford Grant Primary School and go to a special school. Mrs. Doyle says she can't understand how a unit which is designed especially for children with difficulties can fail her daughter. She adds: "Ashlee is being denied her rights of being able to mix with mainstream children".
Birmingham Evening Mail, February 4, 1995.
The Chair of Education, Lewisham Council, Coun. Gavin Moore, quotes the Government's new Special Needs Code of Practice to defend the Council's decision to send Chloe McCollom to a special school against her parents' wishes. He says the Code states that local education authorities must comply with a parental preference unless the school is unsuitable to the child's age, aptitude or special needs or the placement would be incompatible with the efficient education of other children or with the efficient use of resources.
Deptford and Peckham Mercury, February 9, 1995.
A Private Member's Bill to remove the possibility of disabled children being compelled to attend a special school against their parents' wishes receives its Second Reading in the Commons. The Civil Rights (Disabled Persons) Bill introduced by Harry Barnes MP aims to remove conditions on disabled children's entry into mainstream schools specified in the 1993 Education Act.
Education, February 10, 1995.
---
March
A new policy on disability published by the Educational Institute of Scotland says disabled children often face discrimination because of badly designed school buildings and a lack of technology to help them take part fully in class work. The deputy general secretary of the EIS, Fred Forrester, said: "All important bodies in Scottish education are now committed to ending discrimination arising from sex or ethnic origin, yet discrimination against disabled children continues, not from any consideration of principle but for reasons associated with the design of school buildings or the absence in schools of new technologies which are readily available".
The Scotsman, March 8, 1995.
Disabled schoolgirl Molly McIntyre takes Lambeth Council to the High Court because she says it has failed to provide adequate wheelchair access in her school. Molly, ten, has been missing many of her classes at Sudbourne Primary which is built on two levels with no lift to the first floor. Molly's mother, Lesley McIntyre, says Molly has the right to be educated at her local school and it is inhuman to expect a disabled child to cope with mainstream education without disabled access. "I see this case as a symbolic one. By no stretch of the imagination is Molly enjoying 'equal opportunity' if she is segregated because of her handicap. I am tired of the pro-integration rhetoric with no budget attached".
Times, February 5, 1995.
Shadow Education Secretary David Blunkett has called for a review of special needs provision to integrate more blind children in mainstream schools. At a national conference of the Royal National Institute for the Blind in Leeds, Mr. Blunkett spoke of the need to reduce the stigma of visual impairment and increase contact with the wider community.
Yorkshire Post, March 27, 1995.
In Parliament The Minister for the Disabled, William Hague, promises amendments to the Government's Disability Discrimination Bill to achieve greater access to mainstream schools. The announcement came as opposition MPs attempted to introduce additional provisions to secure rights for disabled people but these were defeated in a series of votes.
The Guardian, March 28, 1995.
---
April
A London conference organised by Save the Children and Integration Alliance heard that widespread integration of disabled children into mainstream schools would be a potent antidote to the "invisibility" of disabled children in literature, television, films and advertising. Micheline Mason, co-ordinator of Integration Alliance told the audience of largely media workers they could be bridges between the separate worlds of disabled and able-bodied people. She said: "We live in a culture of exclusion. You are shut out of our world as we are shut out of yours".
The Teacher, April/May 1995.
Classmates of five-year old Joe Fillis at West End County Primary School in Ormskirk, have learned sign language to help him through his language difficulties. Joe's friends joined in his sign language lessons to stop him feeling left out - and now he is talking back. Joe is managing words and simple sentences and his parents and teachers are delighted with his progress.
Daily Post, Liverpool, April 7, 1995.
Derbyshire County Council is to spend £185,000 on building special needs support units in mainstream schools following government approval to close one special school and earmark for closure two others.
Derby Evening Telegraph April 12, 1995
The mother of ten-year-old Rebecca Jenkins who wants her to move to a Swansea mainstream comprehensive with her friends says the school's fears over accepting Rebecca are unfounded. Children at her current mainstream school learned to accept Rebecca and their fear of disability went away naturally. "Now it's a joy to see them together".
South Wales Evening Post, April 17, 1995.
Children with speech and language difficulties are to be given more places in mainstream schools in County Durham. Two ten-place units are being provided at Cheveley Park Primary, Belmont, Durham, and at Wheatley Hill Primary, near Peterlee. Plans are also being drawn up for units in other mainstream schools. If agreed they would eliminate the need for children to attend Percy Hedley Special School in Newcastle.
Evening Chronicle, Newcastle-upon-Tyne, April 21, 1995.
---
May
The new Special Needs Tribunal receives more than 500 appeals in the first six months and disposes of about 50 cases.
Education, May 5, 1995.
Headteacher at Northstead School, Scarborough, Keith Revell, says disabled pupil Jason Jellie is an asset to the school. "He brings so much with him as a person.We can all learn from his good manners, his pleasant personality and happy disposition. The children regard him as just another child which is how it should be".
Scarborough Evening News, May 6, 1995
School Inspectors find that standards of teaching and achievement at St. Cenydd Comprehensive School at Caerphilly,which takes 50 pupils with physical and hearing disabilities are satisfactory or better in nine out of 10 lessons, and that no poor work was recorded. The inspectors said the disabled youngsters play a full part in the life of of the school which has a safe and caring environment. Their able-bodied classmates benefit from working with them.
South Wales Echo, May 6, 1995.
Lesley McIntyre says she's considering going to the European Court after losing a High Court Case which she'd hoped would lead to Lambeth Council having to install a school lift for her daughter, Molly, who uses a wheelchair. Her mother claims a lift is a legitimate educational provision because without it Molly can not get a full education. Commenting on the High Court result, she said:"I am fighting for the lift because I want Molly to have the same opportunities as other kids at the school. I'm also fighting for a principle. There are hundreds of children around the country who will be adversely affected by this ruling".
The Guardian, May 9, 1995.
New research into funding for autism throughout London has found big gaps in services. One mother had to send her son to school in the Midlands because there was nowhere else for him to go.
Hendon Times, May 11, 1995.
More than £10,000 has been spent by Calderdale Education Department on adapting Raistrick High school to cater for a pupil with cerebral palsy, Seth Crank. The headmaster of the school, Mr. Peter Clark, said the funds would enable the school to be adapted for Seth's needs, and also for other children with disabilities.
The Brighouse Echo, May 26, 1995.
Wrexham Support Centre says it is having to cope with twice as many children as it can manage following an increase in the number of youngsters being excluded from mainstream schools. Head of the Centre, John Morris, said Clwyd Education Authority is running an "ambulance or undertaker service" - to get the bodies away from the schools. Mr. Morris claims that schools wanting to maintain their image, difficulties in coping with the curriculum and changes in Government policy on exclusions have all played a part in increasing the number of youngsters being excluded. He has presented the authority with a report calling for more support to be given to youngsters within schools. Once they are excluded it is very difficult to get them back into mainstream.
Daily Post, Liverpool, May 26, 1995.
A new £100,000 unit has been funded by Kent Education Authority at Thamesview School, Gravesend, so that physically disabled pupils can take full advantage of mainstream secondary education. The unit provides a base where students can find support for personal care, therapy and independence skills, study, and improved access to computer technology. The new facilities include a therapy area where a community paediatric physiotherapist visits weekly to develop exercise programmes for individual students.
Gravesend Reporter, May 11, 1995
---
June
Beverley Flitton and Caroline Frizzell, whose Down's Syndrome children attend mainstream schools, are organising a conference in Enfield, London, to give parents and teachers a better understanding of the arguments for inclusion. The two women have been determined that their children will be seen for their gifts t - not for their disabilities. According to Beverley: "One of their gifts is the way they bring out a nicer and more caring side in other children. We want to see them all together. It's the same issue as accepting people who are black. Children have to see what they have in common with children with disabilities, not the differences".
Cheshunt Telegraph, June 1, 1995.
Parents at a Leicester school have launched a campaign to help a young disabled girl move up with her friends to senior school. Mrs. Pamela Worral said the head of English Martyrs' School in Leicester, Mr. David McLean, had expressed some concern that the school may not be a suitable place for her daughter Karla. "Karla is really upset about it. She wants to move up with everybody else from the school. If she had to go to another school she would be devastated".
Leicester Mercury June 12, 1995.
Villagers at Trimdon Grange are raising money for a wheelchair which will enable Lisa Hedley, 11, to attend the mainstream secondary school of her choice. Lisa wants to go to Sedgefield School with her friends rather than one of two other schools which have been adapted for children with physical disabilities. The staff at Sedgefield say they are happy to have Lisa, provided she has the special wheelchair. As the local education authority says it is unable to help, it's been up to the villagers of Trimdon to raise the cash with raffles, race nights, discos and cake stalls.
The Mail, Hartlepool, June 12, 1995.
Better access for children with disabilities at mainstream schools has been kept on Nottingamshire's education agenda - but at the cost of other education cuts. The education committee chairman, Coun. Fred Riddell, said he was particularly disappointed at having to take money ear-marked for all-weather sports pitches. The Government gave the Council £1.6m to spend on capital projects when it requested £18m with the result that the Council had to "rob Peter to pay Paul" to do its work. Coun.Riddell said: We have always been keen to ensure that every parent should be able to send their child to the school of their choice as part of the Children First policy. This has been so successful that more and more parents are choosing mainstream schools and so we are having to find more and more money".
Evening Post, Nottingham June 14, 1995.
Eight-year-old Martin Willis, who is deaf, is reported to be doing "superbly" at Farley Junior School, Luton. Martin was unhappy at his previous school,where he was in a special unit, because it was outside his catchment area. He had to leave for classes at 6.50 a.m. each morning and couldn't see any of his friends outside schools hours because they lived so far away. At Farley Junior Martin is in a mainstream class. He and his teachers use microphones to amplify sounds and he has his own sign interpreter.
Dunstable Leader, June 21, 1995
Brent Council is considering improving its mainstream schools rather than meet transport costs for educating disabled children outside the Borough. This year's £4 million budget for sending more than 140 children to schools throughout London is expected to double by the year 2,000 if changes are not made. At least half the budget is for travel, with some children spending four hours a day getting to and from school.
Kilburn Times, June 29, 1995.
Norfolk County Council are looking into how much it will cost to install a lift at Broadland High School, Hoveton, so that Nicholas Mobbs, 12, can attend with other children from his neighbourhood. Nicholas says: I have been in a mainstream school for seven years and I want to stay in a mainstream school. I like the sports they do and I don't think I should be treated differently. I'm not different, except I'm in a wheelchair.
Great Yarmouth Mercury, June 30, 1995.
---
July
Preethi Manuel, fighting for a mainstream school place for her daughter Zahrah who has cerebral palsy, has finally won her battle. Ms. Manuel staged a televised sit-in at the Council's Crowndale Centre with disabled campaigners as a final protest in her five-year struggle. At the meeting with Camden Council a verbal agreement was reached on her demands. These were that eight-year-old Zahrah be put on the school roll at Beckford primary, a date is set when she will become a full-time pupil, her two-day a week placement is gradually phased into five days, and until then, Camden Council funds her £120 a week home-tuition.
Camden and St. Pancras Chronicle, July 6, 1995.
A parents' group is set to take Dudley Council to court because it claims the authority is breaking the law by failing to educate special needs children in mainstream schools. The Dudley and Sandwell branch of Network '81 believes that the Council is pursuing an outdated and illegal policy of not letting special needs children into ordinary schools. Dudley Council denies it is breaking the law but says it believes that children with moderate to severe learning difficulties are best educated in special schools.
Birmingham Post, July 22, 1995
Russia has announced a new national policy for children with special needs. The Government wants disabled children to be integrated into mainstream schools rather than isolated in residential institutions. Dr. Alexander Asmolov, deputy federal education minister, said the change in policy heralded "a new era of dignity".
Disability Now, July 1995.
Commenting in a letter to her local paper on the decision to exclude her daughter from Hornsea Girls School, Midge Caryer says that like most schools in Haringey, Hornsea school does not offer equal opportunities. "I invite all Haringey mainstream schools to publicly abandon their equal opportunities policies or add a rider to the effect that students with disabilities are excluded.This would be truthful".
Hornsey Journal, July 20 1995.
Parents of ten-year-old Sebastian Clarke, who has cerebral palsy, have removed him from his Birmingham School alleging cruel taunts and bullying from his classmates because of his disability. The school says that the allegations do not reflect the true facts which are that the school has made full provision for Sebastian comparable to any other mainstream school.
Birmingham Post, July 21, 1995.
Jack and Barbara Dundon say they are appealing against Nottinghamshire County Council's decision to send their grandson, Sean Farrow, 11, to Bramcote Park School, a mainstream school where visually impaired children are integrated with support. They say Sean, who lives with his grandparents because he prefers their quieter surroundings, could not cope in mainstream and will get better opportunities in a special school. A County Council spokesman said Bramcote Park's individual needs unit was one of the most innovative and successful of its kind in the country. And the head of the boarding school for visually disabled children which Sean has been attending said the school would not integrate a pupil if they were worried about it.
Evening Post, Nottingham July 27, 1995.
---
August
John Kenworthy, a clinical psychologist, and Joe Whittaker, a higher education lecturer, face prison sentences in their fight to win mainstream school places for two children with special educational needs. The two have refused to pay fines imposed after they held a sit-in at the Lancashire County Council's offices in Preston. Their protest on behalf of Niki Crane, 12, and Zak Lewis, 9, is part of a growing movement for more integration in education. A national network of parents' groups has grown up and many families are now resisting local authorities decisions to send their children to special schools.
The Independent, August 5, 1995.
Helen Garrod becomes the first wheelchair user to the join the National Union of Students (NUS) national executive committee. She was elected at an NUS conference and has been given primary responsibility to develop the union's work for disabled students. Helen says there has been a change in attitude to disability issues in the NUS with a new focus on civil rights and access. A Nottingham students union spokesperson where Helen attended university, said: "Helen is very dedicated and enthusiastic. She will do a fine job fighting for the rights of disabled people."
Disability Now, August 1995.
Northumberland County Council is planning a specialist centre for up to 30 youngsters who have been expelled or are at risk of being expelled from school because of bad behaviour. The idea is that 11 to 16-year-olds would be given help in a bid to improve their behaviour and return them to the classroom. It is envisaged that outdoor pursuits, community activities, the development of techniques to control behaviour and counselling sessions would all be available at the centre. The plan is a part of a package of measures to tackle the number of children being expelled from school which also includes setting up a mainstream behaviour support team.
The Journal, Newcastle, August 9, 1995.
Seventeen-year-old Mared Jones of Wrexham is hailed as a torch bearer for other children with Down's Syndrome after gaining eight GCSE passes in her chosen subjects. Dr. Eric Nicholas, a member of the Down's Syndrome Association National Education Committee said: "She has shown what is possible given the right conditions, a lot of hard work, support, a positive attitude from the school and the parents and a willingness to accept the child first and foremost as a child and not a child with Down's Syndrome. Mared is one of a cohort of Down's Syndrome who have come through mainstream schools, thanks to the 1981 Education Act, despite the opposition of some people who did not want them there".
Daily Post, Liverpool, August 28, 1995.
---
September
Parents of four-year-old David Ivins are taking his case to a Special Educational Needs Tribunal to try to settle a dispute with South Glamorgan County Council about where he should go to school. His mother wants him to continue at Peter Lea School near his home where pupils have raised more than £1,000 for an electric wheelchair for him, but the Council say his needs will be better catered for in another school where he will have access to extra teaching help. Peter Lea School is backing David and his family.
South Wales Echo, September 7, 1995.
Nottingham Council has been accused of political dogma by denying parents the right to choose a special school for their children. Fourteen youngsters from Parkside Special School which has closed are being kept at home by their parents who want them to attend a grant-maintained special school rather than the mainstream schools offered by the Council. One parent explained that she wanted her son to go to the type of school "he was used to".
Evening Post, Nottingham, September 5, 1995.
Schools, local authorities and colleges of further education will have to review their admission procedures for disabled pupils when the new Disability Discrimination Bill becomes law later this year. The new Bill is Government-sponsored and has been brought forward to replace the more radical but ill-fated Civil Rights (Disabled Persons) Bill sponsored by Harry Barnes MP and backed by the disability lobby. The Government Bill originally made no mention of education but measures were included after pressure. Schools will have to publish information about the arrangements for disabled pupils and the steps taken to prevent them being treated less favourably than other pupils. Colleges must in future make a "disability statement" setting out their suitability.
The Times Educational Supplement, September 8, 1995.
Grant-maintained Winston Churchill Secondary School in Woking has completed phase one of its "Access for All" scheme enabling it to take three physically disabled pupils with hopes for more to follow in future. At the opening ceremony Woking MP, Sir Cranley Onslow, said he hoped it would show Surrey County Council what could be done. So far the adaptations, including, ramps, a platform lift and adapted toilets have cost £53,000 which has been contributed from school funds. A fund-raising appeal has been set up to fund further improvements, estimated initially at £200,000. These would include three more lifts, additional ramps and adapted toilet, an adapted sports changing room, a fitness suite, and an artificial sports area.
Woking News and Mail, September 14, 1995.
---
October
Two thirds of Nottingham parents of children with special educational needs are "very satisfied" with the decision to move them to a mainstream school according to a survey and more than half the parents consider the quality of teaching and learning to be "excellent". In addition the survey which was conducted by the Nottingham Advisory and Inspection Service and the Educational Psychology Service, found that the majority of parents believe enough money is being put into schools to support children with special needs and that pupils had adjusted well.
Nottingham Evening Post October 2, 1995.
Councillor Bill Harrison, of Havering Council's Education Committee assures concerned parents that there will be full consultation on proposals to integrate eight children with special needs attending a special care unit at Ravensbourne School. A complimentary OFSTED report on the school raised the issue of possible improvements to the unit.
Romford Recorder, October 20,1995
Every school in Birmingham is being supplied with a copy of a video on how best to care for pupils with special needs. The video has been produced by local education authorities within West Midlands. It is titled One in Five because up to one in five children have special educational needs, ranging from minor learning difficulties to a severe disability, at some time during their school life.
Birmingham Evening Mail, October 20, 1995.
Filsham Valley Comprehensive School St Leonard's, East Sussex, is said to be leading the way in integrating children with physical disabilities into mainstream education. All the pupils take part in games and PE lesson including adapted sports such as Polybat, a version of table tennis, and wheelchair hockey. They also enjoy outward bound activities. One pupil in a wheelchair abseiled down a cliff.
Daily Mirror, October 26, 1995.
Kevin Courtney, branch secretary of the National Union Teachers, warns Camden Council against closing down special schools before arranging proper staff transfers to mainstream. The policy of integrating disabled children has been welcomed by disabled pressure groups. This year seven-year-old Zahrah Manuel, who has cerebral palsy, was accepted at Beckford primary school, opening the door for other disabled children to Camden's mainstream schools.
Hampstead and Highgate Express, October 27, 1995.
---
November
The mother of eight-year-old Martin Willis expresses concern that she will be called in "unnecessarily " to take her deaf son home if one of his sign communicators takes a day off work. The headteacher of Farley Junior School in Luton, Richard Wood, said that on one occasion he called in Mrs. Willis for "health and safety reasons" when a communicator was not in school. He said it would not be fair to the other children if Richard was without a communicator, particularly if he had an accident.
Luton News, November 1, 1995.
In Humberside numbers of children identified as having special educational needs are rising but few are being placed in special schools. Councillor Michael Wheaton, chairman of Humberside's special needs education sub-committee says that during the last 18 months the "whole thrust" of Council special needs policy has been to accommodate children in mainstream accommodation.
Hull Daily Mail, November 2, 1995.
Westende School, Wokingham, becomes the first school in Berkshire to open a resource unit to support primary children with Aspergers syndrome. The plan is for the children to receive individual attention to develop social and communications skills and to work towards increasing integration in mainstream classes.
Bracknell News, November 9, 1995.
Brenda Palmer, of Hemi-Help, Belfast, says mainstream schools need more resources to meet the educational requirements of children with special needs. She welcomed draft legislation and a draft code of practice on special needs but said too often parents faced a struggle to get the resources needed for their children in mainstream schools.
Belfast Telegraph, November 13, 1995.
In Liverpool, NUT officials say children with cerebral palsy and Down's Syndrome are being placed in mainstream classes with little or no support. Anton Florek, recently appointed senior education officer blamed new government legislation for a backlog of cases he had inherited but refuted claims that statutory assessment of children with special educational needs had been stopped.
Liverpool Echo, November 15, 1995.
An Edinburgh primary school head says that no matter what the funding challenges there will always be a place for seven-year-old Duncan Steven at her school. Duncan, who has multiple disabilities, has been included at Liberton Primary for two years and has made good progress. Head teacher, Anne Kite, says that as well as benefiting Duncan, integration has had a positive impact on other pupils. "He allows more able children to gain the experience of forming a caring and understanding relationship with someone more vulnerable than themselves".
The Times Educational Supplement, November 24, 1995.
The Pingle School in Swadlincote, South Derbyshire, is described as an outstanding example of how a grant-maintained school can raise standards for the most disadvantaged children. Pingle is £130,000 a year better off as a GM school because of efficiency gains on the cost of support services formerly proved by County Hall. Approximately half of the extra money has been allocated to special needs. The school now has five classroom assistants and spends £30,000 a year on salary bonuses for subject teachers who have taken on new responsibilities for special needs children.
The Daily Telegraph November 29, 1995.
In Barnsley, parent Will Bisby questions whether cutbacks in special needs support to mainstream children are legal. According to Mr. Bisby, his son's statement of special educational needs has been re-written without proper consultation with parents or information being made made available.
Doncaster Star, November 30, 1995.
---
December
One in every 25 children attending Doncaster schools is thought to be in need of special teaching help Education officials have revealed that 1,000 pupils have already been investigated for or are receiving special needs help and another 400 have been identified. By next year the total is expected to swell to 2,000, an average of more than one child in every class throughout Doncaster. Extra support is expected to rise to nearly £2 million more than anticipated. Education chairman, Coun. Pat Mullany, says the Government should provide additional funds to meet the increased spending.
Doncaster Star, December 1, 1995.
As part of National Autistic Week Sue and Les Pickles of Huddersfield describe provision for their son, Jonathan, 7, at a unit for children with communication difficulties which is attached to Moldgreen Junior and Infants School in Dalton. Mrs. Pickles says Jonathan can integrate with other children but he has the "sanctuary "of the unit. A spokesman for Nottingham Autistic Society described provision for children with autism as "patchy" with levels of provision depending in which part of the country a child lived.
Yorkshire Post, Leeds, December 4, 1995.
---