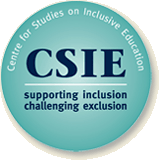 Centre for Studies on Inclusive Education
supporting inclusion, challenging exclusion
news & events
Consultation or con-saltation?
06 May 2014
Setting a consultation period of only three weeks including Easter break and May Bank Holiday (total just 12 working days) the Department for Education has sought responses to the revised SEN and Disability Code of Practice: 0-25 years.
Blink and you've missed it. Such astonishing haste adds salt to the wounds of those concerned at the pace of change and the magnitude of major changes to the education system, especially as there is little or no evidence of how these changes will improve existing arrangements. We also deeply regret the limited number of closed and very specific questions on the online response form, the only route for submitting responses, which effectively deprived respondents of any opportunity to voice concerns about the current state of the Code of Practice and its fitness for purpose. We quip poorly that this seems more like con-saltation than consultation.
CSIE's main response has been made through the collective voice of the Special Educational Consortium (SEC), of which CSIE is a member.
In its individual response, CSIE welcomed the newly added references to the Equality Act 2010 and to Article 24 (Education) of the UN Convention on the Rights of Persons with Disabilities and recommended that these should be mentioned consistently throughout the Code, so that new legislation can be understood in the context existing. CSIE's response also called for a more thorough incorporation of the existing statutory guidance on Inclusive Schooling, as had previously been promised by the DfE. CSIE warned that, without strategic leadership and clear guidance on how to advance more inclusive education for disabled children and young people, the DfE could be in breach of its obligations to them.
---
Postcode lottery for inclusion
18 March 2014
CSIE has been working with researchers at Exeter University to explore school placement trends (i.e. the proportion of children placed in special schools or other separate settings) of all local authorities in England. CSIE has been reporting local authority school placement trends since 1988. Work towards on this latest report has been funded by the Esmée Fairbairn Foundation, to whom we remain grateful.
The new report provides up-to-date information for the years 2007-13. Like other Trends reports before it, it reveals a postcode lottery for inclusive education. There continues to be huge variation in the proportion of children regularly sent to special schools by each local authority. This ranges from 0.2% (the equivalent of 2 in 1,000 children) to 1.4% (the equivalent of 14 in 1,000) sent to special schools each year by different local authorities. These differences bear no simple relation to the size of a local authority or its social or geographical characteristics.
This detailed information, presenting school placement trends at local authority level, is unique to CSIE. It can help parents and professionals in negotiating children's school placements and can support the efforts of those who want to lobby for change.
The new report will be launched in London on Thursday 27 March. The event is free but places must be booked in advance. Further information is available with all booking details.
---
Note: some of the documents on this page are in PDF format. In order to view a PDF you will need Adobe Acrobat Reader
Page last updated: Thursday 22 May 2014