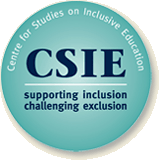 Centre for Studies on Inclusive Education
supporting inclusion, challenging exclusion
news & events
Equality: Making It Happen
26 January 2015
We are very excited as we prepare to launch the pilot edition of "Equality: Making It Happen", a practical and accessible guide for schools to make sure everyone is safe, included and learning. This has already attracted a strong interest in the sector and we look forward to sharing the new materials more widely.
We are now looking for primary and secondary schools, clusters of schools, local authorities, academy chains and initial teacher education (ITE) institutions interested in taking part in the pilot, which is due to begin after half term.
Participation involves engaging with the new materials for up to three terms and offering feedback to CSIE via a simple online form. How to engage with the materials is entirely at the school's discretion and can involve any of the following: inviting staff, pupils or parents to complete equality monitoring questionnaires as part of a school audit; reading through the guide and noting any opportunities for school development; or consulting the guide during staff meetings, when reviewing the school development plan or simply as the need arises.
CSIE is offering equality workshops to groups of schools piloting the materials, to support their work and to facilitate group discussion; you may want to talk to other schools near you and encourage them to take part in the pilot too. We are still exploring funding options but may have to make a small charge to help cover our costs.
Schools, local authorities and other settings contributing to the pilot phase will be named in the final resource pack and be entitled to a discount on their first order of the first edition.
Please contact the CSIE office if you have any questions or to express an interest in taking part in the pilot. We look forward to hearing from you!
---
Note: some of the documents on this page are in PDF format. In order to view a PDF you will need Adobe Acrobat Reader
Page last updated: Tuesday 03 February 2015