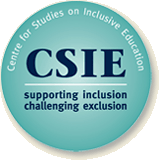 Centre for Studies on Inclusive Education
supporting inclusion, challenging exclusion
news & events
Equality: Making It Happen
06 May 2016
A one-day conference will be held in London on Wednesday 29 June, 10 am – 4 pm, at the Resource for London, 356 Holloway Rd, London N7 6PA. The conference will bring together people who want to do more to reduce prejudice and promote equality in schools. It will offer an opportunity to network, learn from one another and explore possibilities for an online Equality Network.
Confirmed speakers include: Patrick Roach, Deputy General Secretary at NASUWT; Sharon Hodgson, MP, Shadow Minister (Education); Professor Sheila Bennett, Brock University, Ontario; and representatives from schools involved in creating Equality: Making It Happen.
The conference is free to attend but places are limited and must be booked in advance.
---
news & events
Missed the Moment to Mention
18 March 2016
The Department for Education published a White Paper entitled Educational Excellence Everywhere yesterday, 17 March, announcing the educational reforms it intends to carry out over the next five years. Despite setting up an Excellent alliteration opportunity, the DfE has made no mention of Equality in this 125-page document except once, in passing, in the context of the need to create more opportunities for part-time work and job-sharing.
CSIE welcomes some of the plans laid out in the White Paper, especially the DfE's intention of establishing "unapologetically high expectations" of all children; as long as it is safe to assume that all means all and that expectations will be realistic and shared with children and their families. We also welcome plans to ensure that Initial Teacher Education and continuing professional development adequately equip all teachers to respond to "special educational needs", building capacity in schools, building a diverse workforce and increasing diversity in leadership.
At the same time, some of the suggestions in this document leave us confused or disappointed. The description of a "world-leading curriculum for all", expected to make our society "fairer, more cohesive, productive and innovative" makes no mention of educating young people away from prejudice or of helping them learn about diversity and human rights. CSIE believes these should form an integral part of a curriculum fit for the 21st century.
Further, the White Paper states that Ofsted will no longer be concerned with process; instead, inspections will be focused squarely on outcomes. It is not clear whether such outcomes will include levels of bullying or other evidence of a safe learning community where all can achieve. If the only outcomes to be considered are related to exam results, one could argue that this reflects an alarmingly narrow understanding of achievement.
We welcome the intention to increase diversity in the workforce but are deeply disappointed to see that the Department's understanding of diversity in the workforce is limited to addressing flexible working through part-time work and job sharing (p27). Diversity in leadership (p49) makes appropriate reference to some of the protected characteristics of the Equality Act 2010, but makes no mention of disabled school leaders. These are serious omissions which seem inconsistent with the letter as well as the spirit of the law. We look forward to the publication of the DfE's statistical release "School Workforce in England – November 2015" later this year, and to hear the Department's response to this evidence, in the context of its obligations under the public sector equality duty.
The "clearly defined role for local authorities" includes ensuring that the needs of vulnerable pupils are met, but we cannot see how local authorities can be expected to ensure this, considering they are no longer permitted to set up new schools.
Above all, we are gravely concerned at the announcement that all state funded schools in England will be forced to convert to academies and that the implication is that this will lead to school improvement. Even if there was evidence to support this claim, a democratic government would be expected to carry out a thorough consultation before implementing such extensive and irreversible reforms. Worse still, the evidence available contradicts the claim that converting all schools to academies would lead to school improvement. Ofsted has expressed major concerns about eight of the nine large Multi Academy Trusts it has inspected; we present some of the summary findings below, with thanks to Reclaiming Education for drawing our attention to them.
Neil Carmichael MP, Chair of the Education Committee, issued a statement on 16 March, in response to the Budget announcement that the DfE plans to convert all state schools in England into academies. Commenting on the lack of scrutiny on Multi Academy Trusts, Mr Carmichael said: "The Government will face significant challenges in implementing these proposals."
"Access to a great education is not a luxury but a right for everyone" concludes the Secretary of State in her foreword to the White Paper. We could not agree more, in fact you could have taken these words right out of our mouths. There are plenty of Excellent phrases in this foreword and throughout the document: indeed a good education is an "engine for social justice" and "investing in our education system is an investment in the future of our nation". But rhetoric is not enough. This government and the coalition government before it have been accused of dismantling the state education system. The fact remains that undertaking such extensive and irreversible reforms with little or no consultation is inconsistent with democratic values.
A petition has been set up expressing a range of concerns at the proposal to convert all schools to academies and demanding that the government holds a full public inquiry, taking into account educational research and the views of teachers, parents and students.
---
International recognition
15 February 2016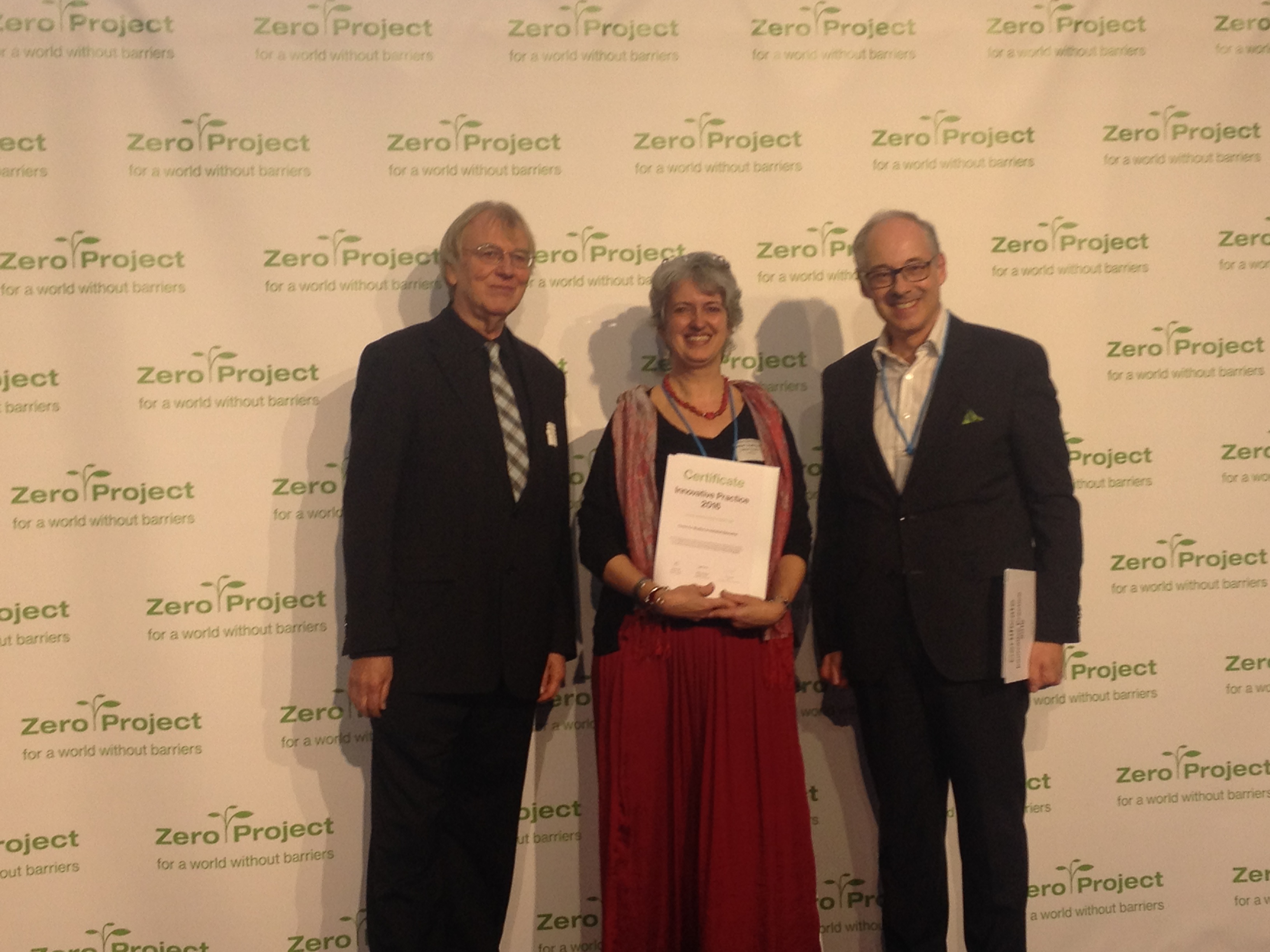 CSIE is delighted to have received an Innovative Practice Award 2016 from the Zero Project, for a world with zero barriers, for our work on Equality: Making It Happen - A guide to help schools ensure everyone is safe, included and learning. Created with schools for schools and sponsored by the NASUWT, the largest teacher's union in the UK, CSIE's new guide helps schools address prejudice, reduce bullying and promote equality holistically. "Seductively practical" and user-friendly, the guide is made up of succinct reference cards, covering all equality strands and aspects of school life, which offer: key information; practical advice and suggested activities; examples of good practice; equality monitoring tools; and sources of further information and support, including lesson plans.
The award ceremony was held on Wednesday 10 February during the Zero Project Conference 2016 at the United Nations offices in Vienna. More than 500 participants from 70 countries attended in person and many more via the accessible online livestream. CSIE director Artemi Sakellariadis received the award on behalf of everyone who has helped create the new guide. The whole project has been made possible with financial support from the NASUWT, Big Lottery Fund, Molitor Foundation, Reuben Foundation and RTR Foundation. Equality: Making It Happen has been created in close collaboration with eight schools: Eastlea Community School in London; Emersons Green Primary School in South Gloucestershire; Little Heath School in West Berkshire; North Beckton Primary School in London; Redland Green School in Bristol; Sir John Heron Primary School in London; The Wroxham School in Hertfordshire; and Yeo Moor Primary School in North Somerset. More schools, organisations and individuals have contributed to the development of Equality: Making It Happen and are all listed, and thanked, in the acknowledgements section of the guide itself. CSIE remains grateful to them all.
Equality: Making It Happen is available directly from CSIE at the discounted price of £30 (RRP £75) and, during February only, at the introductory price of £25.
---
The purpose of education
26 January 2016
CSIE has responded to the Education Committee's inquiry into the purpose and quality of education in England. The call for submissions included a link to a short video where a range of people said what they thought the purpose of education should be. Their views included: to get people a good job, or basic life skills, to help people realise their full potential, to give preparation for day-to-day life, to enable critical thinking leading to informed choices, and to enable people to get a good job and be happy. These do not appear to be conflicting views; they are all variations on the theme of creating the possibility of a better tomorrow. They are all, however, focused on what individuals get out of a good education, with no mention of the benefit to society as a whole.
In its response, CSIE suggested that the primary function of education is to enable children and young people to become responsible and informed citizens, capable of sustaining happy and fulfilling lives for themselves and for others. It added that an agreed set of core values and a culture of respect, for one another and for the environment, are essential in order to enable future generations to establish sustainable communities free from prejudice and discrimination. CSIE further argued that, at a time when information has become easily and readily available, education's role needs to expand from a conventional learning of facts and skills organised around a range of curriculum subjects, to a more empowering set of life skills relevant as much to information processing as to interpersonal relationships and communication.
In addition, CSIE's response highlighted concerns about the narrow focus of what the DfE calls "fundamental British values" and about the negative impact which league tables and the standards agenda can have on school admissions. CSIE recommended that the Equality Act 2010 should be reflected in any framework used to evaluate the quality of education. CSIE further recommended that pupils should learn more about equality and human rights and be supported to monitor and promote these in school. In addition, schools should take every opportunity to challenge stereotypes and educate people away from prejudice, as well as enable pupils to develop a range of interpersonal skills such as collaboration, negotiation and conflict resolution. Last but not least, CSIE recommended that schools should be encouraged and supported to educate all children from their local community, including disabled children and those categorised as having special educational needs, especially when their parents have requested this, and that schools should be specifically evaluated on their development of provision for these learners.
---
Primary success
21 January 2016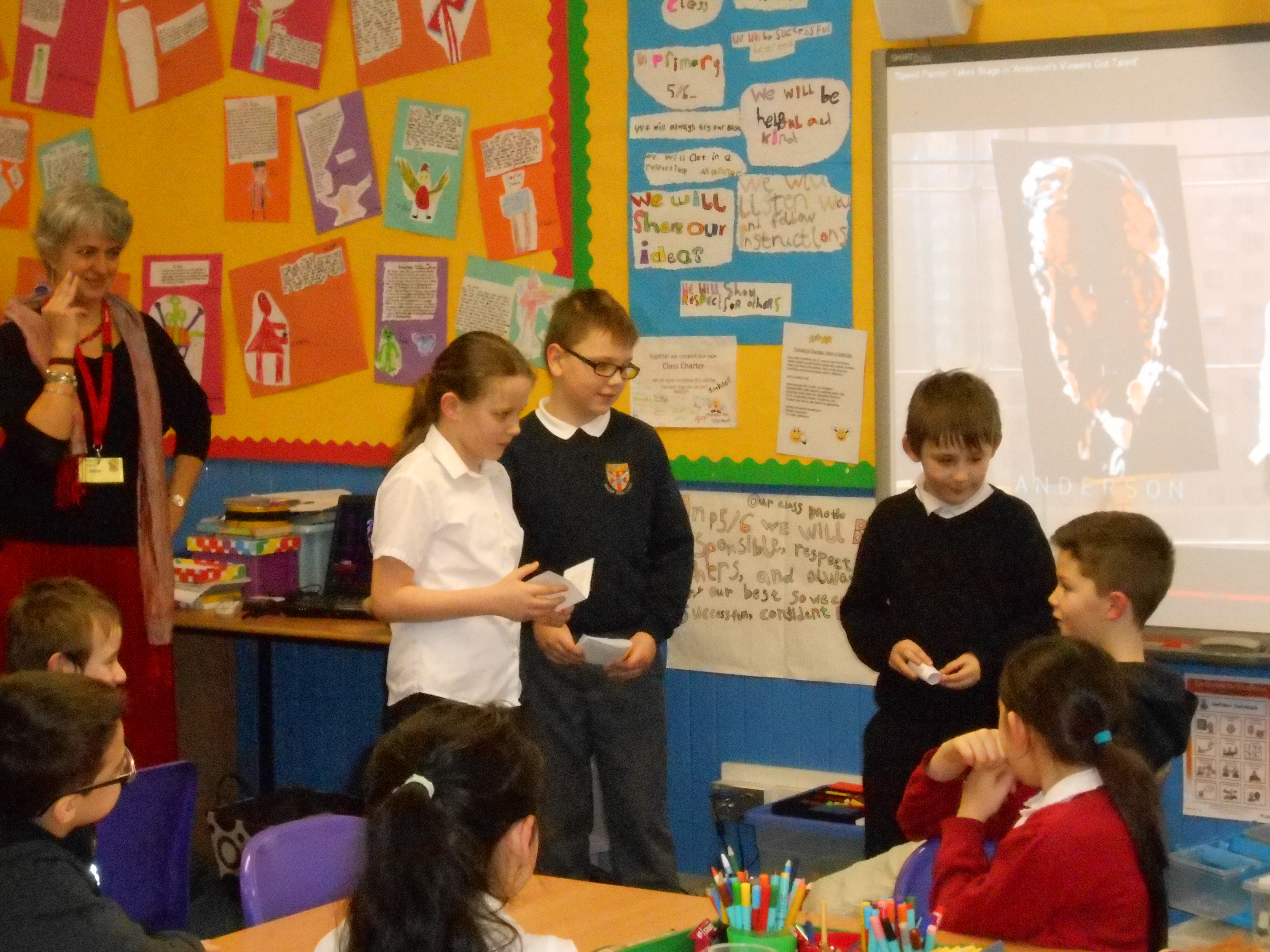 CSIE's popular disability awareness workshops, recently adapted for younger pupils, took place in Walker Road Primary School in Aberdeen on Friday 15 January. A whole-school assembly invited all children to see how disabled people do things differently and five workshops, delivered throughout the rest of the day for groups of up to 25 pupils at a time, enabled children to explore disability from a range of perspectives.
Pupils engaged in role play and in lively conversations about how disability is understood. They also heard from numerous disabled people, through short video clips, and considered what disability is and how it arises, the difference between impairment and disability, and the relative importance of similarities and differences between people. Through various real life examples, pupils considered how disabled people do things in different ways.
At the end of each workshop pupils were invited to complete a feedback slip, to say whether they found the workshop helpful or not and why, and offering them a chance to ask a question anonymously. CSIE has collated this information and written to the school including responses to all questions pupils asked.
CSIE has developed these workshops in direct response to the Equality and Human Rights Commission's recommendation that schools should do more to help pupils understand disabled people, the social model of disability and the prejudices disabled people face ("Out in the open", EHRC, 2012).
Our disability awareness workshops have been consistently rated very highly by pupils and staff. On this occasion 101 out 103 participants said that they found the workshop helpful. One did not respond and another said that the workshop did not add to what they already knew. Some of the reasons pupils gave for finding the workshops helpful were:
"It helps people know that disabled people are equal to us." "It helped me understand that you shouldn't judge people by the way they look." "Now I know that people can do different things in a different way." "It helps people understand disabled still means person and that no one is different." "I learnt a lot more about disability." "It was nice to see what people could do without feet." "I can see what people do the same but different." "I like seeing what disabled people could do with different techniques." "I learned what people can do." "It was interesting because it was fun." "I didn't know that somebody with no arms can do so lots of things." "I learned things about disabled people that are really important." "I didn't know that much about disabled people and now I have more respect for them." "You've made me realise that disabled aren't any different and I liked watching the videos."
---
Note: some of the documents on this page are in PDF format. In order to view a PDF you will need Adobe Acrobat Reader
Page last updated: Tuesday 10 May 2016