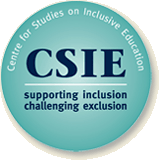 Centre for Studies on Inclusive Education
supporting inclusion, challenging exclusion
news & events
Fabulous opportunity
28 April 2015
This is a significant moment in CSIE's life and we are calling on all our friends and allies to help us continue the good work that we have started.
The pilot edition of Equality: Making It Happen, recently published by CSIE, is a succinct and user-friendly set of reference cards. "Seductively practical", the guide provides equality audit tools, key information, suggested activities, examples of good practice and sources of further information and support. It has been created with primary and secondary schools, in direct response to teachers' requests for a resource to help address equality holistically. The new guide has received a very warm welcome, including fantastic feedback from NASUWT Equality Officers who described it as: "Brilliant", "Very impressive", "Stunning contribution", "Excellent", "Well laid out, easy to access" and "Very thought-provoking".
CSIE is planning a series of free workshops to help schools better understand and address all aspects of equality. The workshops will also show how Equality: Making It Happen can enable schools to ensure everyone is safe, included and learning, ultimately benefitting those at risk of bullying or discrimination. We know of no other initiative addressing all aspects of equality in schools in such an effective and user-friendly way. It will take a long time for our new guide to make an impact on the lives of all pupils in all schools, but for those that it reaches the effect can be decisive.
The number of workshops we run will depend on funding available. We have launched a crowdfunding campaign with a view to running at least two, and as many as ten, workshops. We invite everyone interested in advancing equality in schools to give generously and help us help schools make equality real. Thank you!
---
Most helpful workshops
24 March 2015
Last week CSIE delivered disability awareness workshops to pupils, with ages ranging from 11 to 16, in schools in Oxford and Glasgow. In each group 95-100% of participants (pupils and staff) said that they found the workshop helpful. A handful who said that they found it unhelpful, commented that it did not add to what they already knew. Some of the reasons pupils and staff gave for finding the workshops helpful were:
I have found this workshop helpful because…
…it's changed my views on disabled people in society. …it helped me to know that disabled people can do things in their own way. …I didn't realise how intelligent and smart disabled people could be. It is amazing. …it encourages everyone (teachers included) to challenge their perceptions/beliefs about disability. …I now know that no matter how your body works you are the same as everyone else. …I now understand disability more. …eyeopening. …it shows a different side to disability. …I have learnt a lot about what it is like for disabled people. …now I know not to judge by first appearance. …I now see disabled people differently. …the way in which disabled people are presented is unlike other presentations; it does not present them as victims we must feel sorry for, but instead people who are very similar to us and are not that different. …it has opened my eyes and mind a lot. …I have understood the value of inclusive education. …it opened up my mind to new perspectives and helped me to understand more about disability. …now I will think more about how the disabled person feels. …it made me think behind my thoughts on disabled people. …it shows you not to make fun of disabled people and to try and get a different perspective to see them. …it helped me understand disability from the point of view of disabled people. …it breaks barriers. …it was not used to preach or 're-educate' but to reflect on perspectives. …I was very interested to hear about the difference between disability and impairment and hear what disabled people think about changes regarding them. …it has given me a valuable, interesting and complex perspective on disability. …it helped me see disability from a new perspective. …it has made me think differently about disabled people. …I found out disabled people are not much different from us. …as a class teacher I found the content very informative and relevant.
---
Pilot materials available
06 March 2015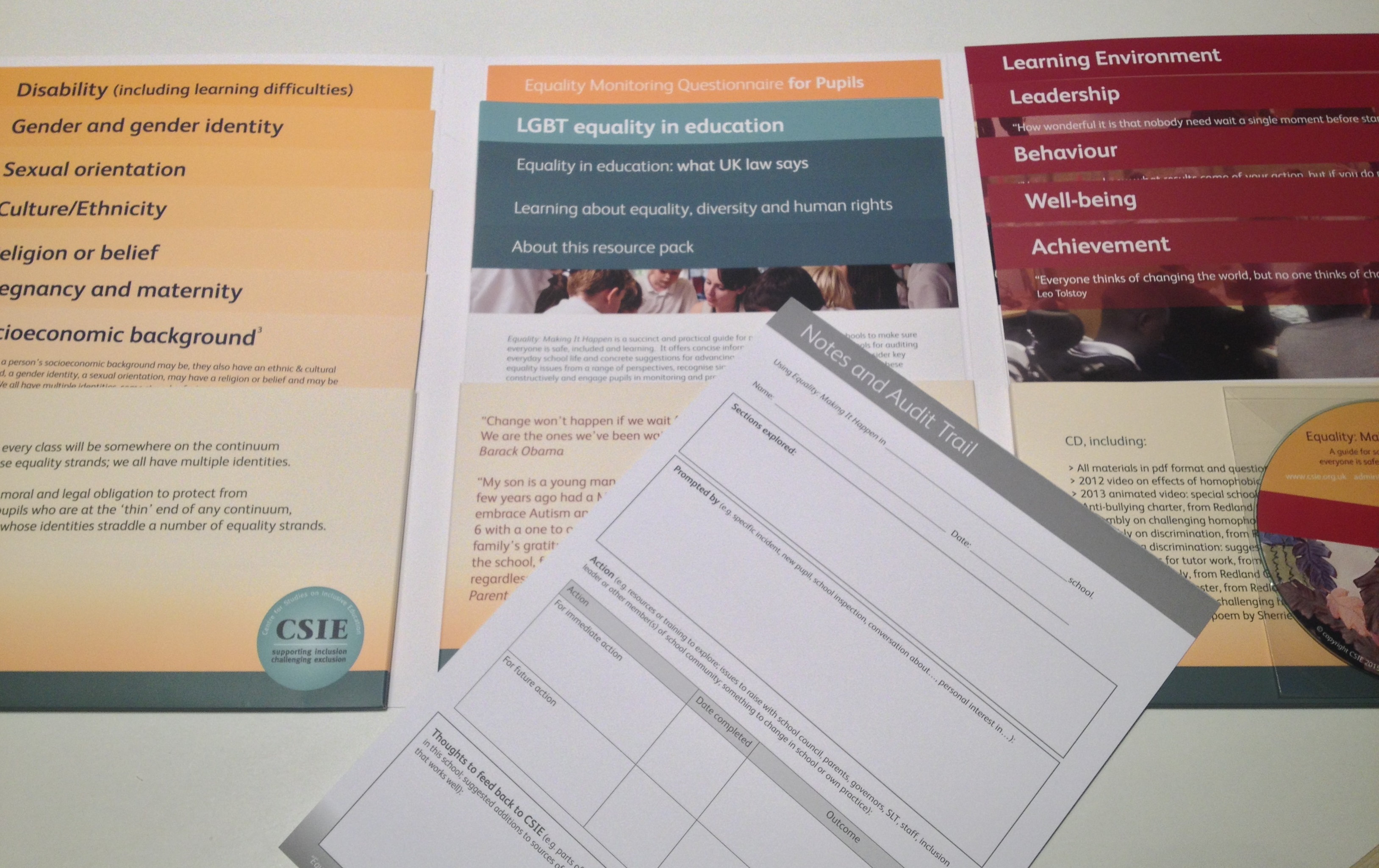 The pilot edition of Equality: Making It Happen is now available from CSIE. The materials have been developed in close collaboration with five primary and three secondary schools, in direct response to teachers' requests for a succinct, user-friendly resource to help challenge prejudice and advance equality in schools
The new materials were presented yesterday, Thursday 5 March, at the NASUWT Equality Officers' Briefing in Birmingham and received a very warm welcome from those present. Comments included: "Brilliant", "Very impressive", "Stunning contribution", "Excellent", "Well laid out, easy to access", "Very thought-provoking".
The pilot will run until early June; schools and other interested parties can leave feedback via a simple online form available at www.csie.org.uk/feedback.
CSIE will run a series of equality workshops throughout the country, details of which will be announced after Easter. In addition, CSIE is offering bespoke equality training for school staff and governors. To find out more or to make a booking please contact admin@csie.org.uk.
---
Equality: Making It Happen
26 January 2015
We are very excited as we prepare to launch the pilot edition of "Equality: Making It Happen", a practical and accessible guide for schools to make sure everyone is safe, included and learning. This has already attracted a strong interest in the sector and we look forward to sharing the new materials more widely.
We are now looking for primary and secondary schools, clusters of schools, local authorities, academy chains and initial teacher education (ITE) institutions interested in taking part in the pilot, which is due to begin after half term.
Participation involves engaging with the new materials for up to three terms and offering feedback to CSIE via a simple online form. How to engage with the materials is entirely at the school's discretion and can involve any of the following: inviting staff, pupils or parents to complete equality monitoring questionnaires as part of a school audit; reading through the guide and noting any opportunities for school development; or consulting the guide during staff meetings, when reviewing the school development plan or simply as the need arises.
CSIE is offering equality workshops to groups of schools piloting the materials, to support their work and to facilitate group discussion; you may want to talk to other schools near you and encourage them to take part in the pilot too. We are still exploring funding options but may have to make a small charge to help cover our costs.
Schools, local authorities and other settings contributing to the pilot phase will be named in the final resource pack and be entitled to a discount on their first order of the first edition.
Please contact the CSIE office if you have any questions or to express an interest in taking part in the pilot. We look forward to hearing from you!
---
Note: some of the documents on this page are in PDF format. In order to view a PDF you will need Adobe Acrobat Reader
Page last updated: Saturday 09 May 2015