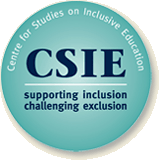 Centre for Studies on Inclusive Education
The Park Centre, Daventry Road, Knowle, Bristol BS4 1DQ, UK
tel +44 (0)117 353 3150
fax +44 (0)117 353 3151
email admin@csie.org.uk
Equality workshops for staff and governors; disability awareness workshops for pupils.
A wide range of resources for schools, parents, students and more.
Equality surveys and support for schools wishing to carry out their own equality audit.
CSIE is a national charity that works to promote equality and eliminate discrimination in education.
An inclusive setting is one where all feel visible, welcome and respected.

CSIE receives no regular funding. If you like our work, please help us do more.
Report on activities during the Europe for Citizens 2016-17 programme.
16 March 2018
"Equality: Making It Happen" receives another excellent independent review.
07 March 2018
CSIE strengthens its links with the Essex & Thames Primary SCITT.
07 March 2018