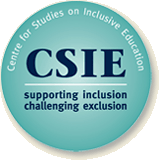 Centre for Studies on Inclusive Education
supporting inclusion, challenging exclusion
School placement trends
CSIE has been reporting, since 1988, school placement trends of all local authorities in England (i.e. the proportion of children placed by each local authority in an ordinary local school and the proportion of children being sent to separate "special" schools). CSIE has been awarded a grant by the Esmée Fairbairn Foundation and has been working towards the next issue in this series with Professor Brahm Norwich and Dr Alison Black from the University of Exeter. This work has brought to light unsettling evidence on admissions by Academies and Free Schools. Preliminary findings were reported at the European Conference on Educational Research in Istanbul in September 2013. The final report is expected to be published in March 2014.
The significance of this research is twofold: despite every authority being subject to the same national policies and legislation, CSIE Trends reports have brought to light disturbing local variations. Up-to-date information will empower parents to make better informed choices for their children's school, and help parents and professionals to lobby for improvements to educational provision. Additional information on Academies' and Free Schools' admissions will articulate important change as it unfolds. The Department of Education publishes information at national level, but local variation is only evident by analysis at local authority level, which is unique to CSIE.
Current and previous reports in the Trends series are available from the CSIE office.
As we prepare to publish the report, we are seeking photographs of everyday life in schools. We welcome images showing staff and pupils of all ages, from a range of backgrounds. Please send good quality digital images in .jpg format to admin@csie.org.uk or post on a clearly labelled CD to CSIE, The Park Centre, Daventry Road, Bristol BS4 1DQ to reach us by Friday 7 February.
We can only print images that have been submitted to us with the following permission statement: "The person who took this photograph, all people who are recognizable in it and (for young people below the age of 16) their parents, have all consented to this image appearing in CSIE displays and/or CSIE printed and web-based publications." (We do not have to see the signed permissions at this stage, but do need to see confirmation that all relevant permissions have been granted.) As a token of our appreciation, any individual or school contributing photographs in this way will, if they wish, be named in the report and receive a complimentary copy of the Trends report.
Page last updated: Sunday 20 May 2018