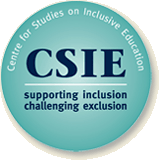 Centre for Studies on Inclusive Education
supporting inclusion, challenging exclusion
School placement trends
CSIE has been reporting, since 1988, school placement trends of all local authorities in England (i.e. the proportion of children sent by each local authority to separate special schools). This detailed level of analysis at local authority level, taking account of "imports" and "exports" (i.e. reporting on school placements of children who live within each local authority's boundaries, rather than on numbers of children attending each local authority's schools) is unique to CSIE.
Work on the latest issue in this series, covering the years 2014-17, is now underway with the help of a grant from the British Academy, to whom we remain grateful. We are, once again, working in collaboration with researchers at the University of Exeter: Professor Brahm Norwich, Dr Alison Black and Dr Yi Liu (who is now at the University of Bristol).
On this occasion we will be presenting up-to-date information online, including a report, detailed information on each local authority for each year examined and an interactive map for clarity and ease of reference. Findings of this research will also be presented at an open seminar in London on the afternoon of 10 April; the event is free but places are limited and must be booked in advance. For further information and to book your place please visit the eventbrite website.
This research shows that there has been a rising national trend of special school placements over the last 10 years. Like other Trends reports before it, it also suggests a postcode lottery for inclusive education: there continues to be huge variation in the rates of inclusion into mainstream schools of children with Education and Health Care Plans. Some local authorities consistently rely more on mainstream settings, while others regularly send high proportions of children to special schools. In 2017 the proportion of children sent to special schools ranged from 0.18% (the equivalent of 1 child in every 556) in the London Borough of Newham, to 1.75% (the equivalent of 1 child in every 57) in Torbay. That is close to a tenfold difference! While there are small variations from year to year, these patterns persist in a way which renders the most inclusive and least inclusive local authorities consistently so.
Such significant differences bear no simple relation to the size of a local authority or its social or geographical characteristics. Further research is needed in order to understand these diverse patterns.
The significance of this research is twofold: despite every authority being subject to the same national policies and legislation, CSIE Trends reports have brought to light disturbing local variations. Up-to-date information can empower parents to make better informed choices for their children's education, and can help parents, professionals and others to lobby for change. Current and previous reports in the Trends series are available from CSIE
Page last updated: Tuesday 26 March 2019