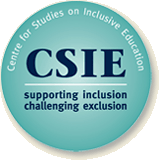 Centre for Studies on Inclusive Education
supporting inclusion, challenging exclusion
Research in education
CSIE is committed to undertaking and disseminating research which informs the understanding of children's, young people's and adults' experiences of education and sheds light on the impact of these experiences on people's lives.
The Centre's research practices are entirely consistent with ethical guidance issued by the British Educational Research Association (BERA). CSIE shares contemporary understandings of the place of values in research, which acknowledge that no researcher can occupy a value-free position, and is confident to keep its philosophical standpoint explicit. The quality of our research can be assessed by the robustness of research design and rigour in its application. CSIE takes pride in departing from conventional ways of representing research and, instead, makes every effort to produce accessible and engaging materials, in order to reach wider audiences and maximise impact.
CSIE's research activities include regular reports on school placement trends of all local authorities in England (i.e. the proportion of children placed by each local authority in an ordinary local school and the proportion of children being sent to separate "special" schools) and a small scale project on choice of school for parents of disabled children.
Page last updated: Sunday 20 May 2018