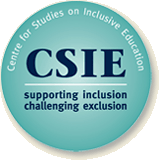 Centre for Studies on Inclusive Education
supporting inclusion, challenging exclusion
creating and utilizing networking opportunities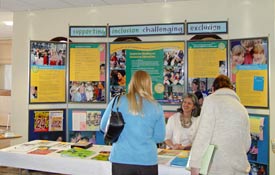 CSIE has organised a number of national conferences, for example on the role of Learning Supporters, The Index for Inclusion and children's rights. CSIE staff frequently attend conferences as contributors and/or delegates and regularly make a CSIE display and bookstall available at relevant events. Please contact the CSIE office to request this for your event.
CSIE has been the UK partner in a Comenius-funded European programme to develop a network of parents and educational professionals interested in developing inclusive education. Although the funded project came to an end in December 2006, the network is still being maintained. Please visit the INCLUES - Clues to inclusive and cognitive education website for more information.
We have recently (autumn 2007) formed Inclusion UK, in collaboration with the three lead organisations at the heart of promoting inclusive education for disabled learners: the Alliance for Inclusive Education, Disability Equality in Education and Parents for Inclusion. More information is available in our Inclusion UK launch event news item.
CSIE organised a national inclusion week in 1992 and in 2002, to mark each decade of the Centre's life.
Page last updated: Tuesday 13 October 2020