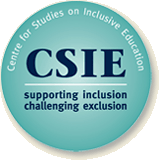 Centre for Studies on Inclusive Education
supporting inclusion, challenging exclusion
including disabled children in mainstream schools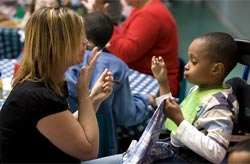 Every child has a right to an appropriate and efficient education in his or her local mainstream school. The right to an inclusive education has been explicitly stated in Article 24 (Education) of the United Nations Convention on the Rights of People with Disabilities (2006). In the UK, including disabled children in mainstream schools has been officially promoted since the early 1980s. Successive governments, however, have been criticised for inadequately resourcing this policy, for lack of political will to enforce it and for maintaining a legal framework which renders inclusive education inaccessible to some learners. This is like issuing a ticket but keeping the door locked.
The national picture is disturbingly inconsistent (please see our publication on Segregation Trends for more information), while the current climate seems to be harbouring reservations towards including disabled learners in mainstream schools, on the grounds that some schools currently are, or feel, inadequately equipped to provide for all learners.
Professor Gary Thomas, in the aftermath of Baroness Warnock's 2005 assertion that inclusion is not working, wrote an article in the TES (published 14 October 2005) in which he states:
"But 25 years on, it is revealed that inclusion is difficult. Did anyone expect otherwise? Of course special schooling is more convenient for the education system. Children who make serious demands on teachers' time are removed to special schools. The real issue - if we believe that inclusion is the right thing to do - is about how to make it work. Here, some brave decisions are needed from policy-makers about funding."
Including disabled learners in mainstream settings may not be easy, but we hope visitors to these pages will see this as a challenge worth grappling with.
The following text is adapted from Implementing the Disability Discrimination Act in schools and Early Years settings, published by the Department for Education and Skills and the Disability Rights Commission (2006).
Schools that are rising to the challenge of developing an inclusive environment that benefits all children have found the following helpful:
a 'can do' attitude
a welcoming and supportive ethos
forward planning
strong leadership
ongoing consultation with pupils and parents
effective staff training
good working relationship with outside agencies
regular review and evaluation of reasonable adjustments.
For more information please see CSIE's responses to some of the most frequently asked questions on schooling for disabled children and young people.
Page last updated: Saturday 27 October 2018