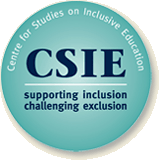 Centre for Studies on Inclusive Education
supporting inclusion, challenging exclusion
human rights - further information
Children's human right to fully supported and resourced inclusive education is explained in detail in CSIE's 2002 report, Social and educational justice: the human rights framework for inclusion, written by Dr Sharon Rustemier, as well as in CSIE's earlier resource Inclusive education: a framework for change, written by Alison Wertheimer. For details of these and other CSIE resources, see the resources list and order form.
The right to education is explained in more depth in a series of four 'Primers' written in 2001 by the United Nations Special Rapporteur on the Right to Education, Dr Katarina Tomasevski, and available on the website of the Right to Education Project:
Removing obstacles in the way of the right to education
Free and compulsory education for all children: The gap between promise and performance
Human rights obligations: making education available, accessible, acceptable and adaptable
Human rights in education as prerequisite for human rights education
For a wide range of government departments and organisations offering advice, information and/or resources relevant to inclusive education, please see our inclusion - related links page.
Page last updated: Tuesday 09 October 2018