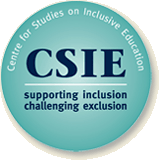 Centre for Studies on Inclusive Education
The Park Centre, Daventry Road, Knowle, Bristol BS4 1DQ, UK
tel +44 (0)117 353 3150
fax +44 (0)117 353 3151
email admin@csie.org.uk
An inclusive setting is one where all feel welcome and respected.
"Anti-bullying strategies for a rich and positive learning environment": new for summer 2013.
Explore all CSIE resources; see current offers and order online.
CSIE is a national charity that works to promote equality and eliminate discrimination in education.

CSIE is a registered charity. Please consider making an online donation.
food for thought
"The future belongs to those who believe in the beauty of their dreams."

Eleanor Roosevelt
Report on illegal exclusions from the Office of the Children's Commissioner.
25 April 2013
The government has called for a review of the public sector equality duty.
19 April 2013
DfE publishes Indicative Draft Code of Practice.
21 March 2013