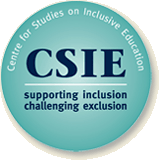 Centre for Studies on Inclusive Education
The Park Centre, Daventry Road, Knowle, Bristol BS4 1DQ, UK
tel +44 (0)117 353 3150
fax +44 (0)117 353 3151
email admin@csie.org.uk
Equality workshops for staff and governors; disability awareness workshops for pupils.
A wide range of resources for schools, parents, students and more.
Committed to exploring children's, young people's and adults experiences of education.
CSIE is a national charity that works to promote equality and eliminate discrimination in education.
An inclusive setting is one where all feel visible, welcome and respected.

CSIE receives no regular funding. If you like our work, please help us do more.
UK criticised for failing to uphold disabled children's rights.
04 September 2017
CSIE turns 35 today and has many reasons to celebrate!
28 June 2017
CSIE invited to contribute to new European project.
15 June 2017