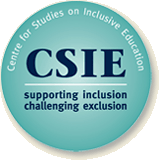 Centre for Studies on Inclusive Education
supporting inclusion, challenging exclusion
document not found
Unfortunately we couldn't find the page you were looking for.
Perhaps you might want to try one of these pages instead or just go straight back to our homepage.
To make sure you don't have the same problem in future, please do tell us. Email admin@csie.org.uk.
Thank you very much for visiting the Centre for Studies on Inclusive Education.