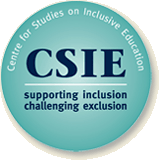 Centre for Studies on Inclusive Education
supporting inclusion, challenging exclusion
news from 2010
The Importance of Teaching
30 November 2010
The Department for Education published the White Paper entitled The Importance of Teaching today, 30 November. This sets out radical changes for the schools system and claims to free schools from the constraints of central Government direction and place teachers at the heart of school improvement.
CSIE supports many of the plans laid out, not least the desire to radically overhaul the way in which the curriculum and inspections are run, the emphasis upon high expectations for every pupil, improvements to accountability and transparency and the efforts to make funding fairer. CSIE recognises that this will be of benefit to millions of children and young people.
However, CSIE is concerned about a number of the proposals, most notably those that concern behaviour and discipline. We feel that a chance has been missed to genuinely change the ethos of schools and urge the government to think carefully about the following points:
We are at a loss to understand why former Armed Forces employees have been singled out for a specific teacher training initiative (over and above, say, former bankers) and are concerned that such people are being sought as a 'solution' to the 'problem' of discipline in schools. Like Children's Rights Alliance England (CRAE) we remain worried that successive School Ministers place a heavy weighting on teacher force and disciplinary measures when research has repeatedly shown that thriving schools are those in which children and young people feel respected, stimulated, involved and engaged.


The coalition Government is urging all schools to market their own school improvement plan geared around their own specific circumstances and recognises that improving teacher performance involves developing and strengthening on the job training. However, recognition that the self-evaluation framework (SEF) has become a bureaucratic nightmare for many schools, has the potential to leave an abyss if self-evaluation is not built into all processes within schools. CSIE's popular publication The Index for Inclusion; developing learning and participation in schools, the 3rd edition of which is due to be launched in April 2011, is a helpful resource which guides schools through a self-review of their cultures, policies and practices in a way which leads to whole school improvement.


We are concerned that proposals to allow teachers to use "reasonable force where necessary" in order to discipline pupils breaches Article 19 of the United Nations Convention on the Rights of the Child (UNCRC), which the UK has ratified. Article 19 stipulates that Governments should ensure that children are properly cared for and protected from violence by anyone who looks after them. This clearly includes teachers. We would like to remind the coalition Government that the powers of restraint currently granted to schools were recently prohibited in privately-run child prisons by the Court of Appeal as an abuse of children's rights. CSIE is deeply concerned about the lack of any duty for the central collection of data concerning such force since transparency helps to protect children from unlawful restraint. Without monitoring, there is no way to determine whether force is being used disproportionately on certain groups, such as those children said to have special educational needs or children from Black and Minority Ethnic communities.


CSIE believes that if the proposals to stop, search and confiscate items laid out in the White Paper were applied to any other group within society there would be national uproar. Current plans are almost certainly a breach of children's rights to privacy under Article 8 of the European Convention on Human Rights, as well as Article 28 of the UNCRC which states that discipline in schools should respect children's human dignity.


We agree that existing anti-bullying guidance is too long and does not serve pupils well through being spread across a variety of places. However, plans to radically reduce the information available on specific forms of bullying to a mere 20 pages, is worrying, unless good quality professional development activities are made available to all prospective and existing teachers. Where teachers are inexperienced or lacking knowledge of specific types of bullying CSIE fears that a reduction and simplification in guidance will make it far harder for teachers to support pupils fully. While the effects of bullying and the methods deployed are often largely similar the reasons behind it can vary hugely, as can a young person's ability to inform a member of staff or other adult. Without teachers recognising where and why such differences may occur CSIE is concerned that pupils will suffer.


Like the Department for Education, CSIE expects schools to take bullying, particularly that founded on prejudice, seriously. That said, we would urge the Department to help teachers identify the beliefs that are in place that enable such prejudicial views to form in the first instance. For example, we feel teachers would be better placed in helping pupils unpick social stereotypes from an early age rather than "firmly intervening to tackle disruptive behaviour"; unpicking notions of Whiteness and heterocentricism rather than responding to specific racist or homophobic incidents; and developing an understanding of the social model of disability. Failure to challenge underlying systems means that bullying will always continue to exist, irrespective of how sound a school's anti-bullying policies may be or how concise government guidance.


We are concerned over suggestions that the coalition Government will "increase the autonomy, accountability and diversity of alternative provision" for those young people that have become, or are seen to be, marginalised from mainstream educational provision. We suggest that it makes more sense - both on a financial, and on individual, personal level - to improve mainstream provision so that it becomes responsive to the full diversity of learners, irrespective of their perceived abilities or behaviour. Equally, we are concerned that the Department for Education feels it necessary to publish separate and additional guidance relating to so-called 'special educational needs' in a future Green Paper. It is regrettable that the radical reform of schools proposed here would not appear to stretch far enough to encompass all learners and the tacit suggestion that reforms do not apply to all children equally.


The suggestion that competition will be used to open the way for "high quality new providers to enter the market" is alarming. It would appear that the Department for Education is conflating accountability (as epitomised through 'good' use of tax payer's money) with competition. Pitting schools or Academies against one another encourages competition and weakens possibilities for collaboration; it also provides an inappropriate incentive for schools to focus their energies on pupils who are expected to perform well at examinations. CSIE is concerned that this promotes a very narrow view of school improvement, while it reduces children, and education, to market forces. Education is a basic human right of every child. This is enshrined in the Universal Declaration of Human Rights and the UNCRC. This difference is about more than semantics. The latter position involves treating children as human beings, worthy of respect by virtue of being human. The former sees them as little more than cogs in a machine. If the government is insistent upon using market forces as a justification for solid educational provision it may be more productive to shift the thinking slightly through acknowledging that people are more productive when they are happier and where they feel they are being treated in a respectful manner. It should also consider the impact of education on children and young-people's well-being, instead of perpetuating a narrow focus on academic achievement.


---
Disability History Month
22 November 2010
This year sees the first ever UK Disability History Month taking place from 22nd November to 22nd December. This event is supported by CSIE and a number of teaching unions and disability organizations including the NUT, NASUWT, SCOPE, RADAR and UKDPC.
The timing of this event covers HIV/AIDS Day (1st December), International Day of Disabled People (3rd December) and International Human Rights Day (8th December). The purpose will be to make schools, colleges, universities, adult education, local authorities, employers, the public and the media focus on:
Celebrating disabled people's struggles and achievements
Sharing examples where disability equality is being realized
Fostering greater understanding of the barriers disabled people continue to face
Focusing on what needs to change so that disabled children can feel that they belong in their local community and can be welcomed and visible in ordinary local schools
Making disability equality a daily reality. The UK government has introduced the Equality Act 2010 and ratified the United Nations Convention on the Rights of Persons with Disabilities. Much has to happen to make these Rights a daily reality for the 12 million disabled children and adults in the UK.
You can find useful resources to promote disability inclusion at www.worldofinclusion.com/qcda.htm
CSIE encourages our supporters to organise events. Look out for details of CSIE's plans for International Day of Person's with Disabilities on 3rd December.
---
Anti-bullying week
12 November 2010
Anti-bullying week takes place across the UK on 15-19 November 2010.
CSIE has joined Beat Bullying's Big March, joining thousands of young people, their families and friends and celebrities to march across 50 websites on November 15 to ask the Government for help to protect children from bullying, violence and harassment.
CSIE supports anti-bullying week in recognition that bullying has no place in schools or any educational setting. We believe that everyone should be recognised as having a contribution to make irrespective of attainment, impairment, ethnic/cultural background or any other perceived or actual difference.
Further information can be found on The Big March website.
A project that helps children become empathetic may also be of interest to some of our supporters can be found here: http://opinionator.blogs.nytimes.com/2010/11/08/fighting-bullying-with-babies
---
LGBT History Month
19 October 2010
Lesbian, Gay, Bisexual and Transgender (LGBT) History Month has been taking place in February every year since 2005 to celebrate and recognise the achievements of LGBT people across all cultures and time. Sponsors include the Ministry of Justice, Amnesty International and the Crown Prosecution Service. CSIE would like to encourage our supporters to look at the organisations website: www.lgbthistorymonth.org.uk
The pre-launch to 2011's LGBT History Month, based around the theme of inclusion in sport for LGBT people, takes place on 2nd November at Twickenham Stadium and is open to the public. The daytime and evening programme is packed with interactive workshops, best practice, presentations, inspiring speakers and an exhibition area.
Please see www.lgbthistorymonth.org.uk/documents/LGBTHistorymonth2011.pdf for further information about the pre-launch, including details for registration.
CSIE encourages our supporters to organise events in February and register them on the official LGBT History Month calendar: www.lgbthistorymonth.org.uk/calendar/Events_Calendar.php
You can find useful resources to promote LGBT inclusion at www.lgbthistorymonth.org.uk/resources/main.htm
---
Equality Act comes into force
01 October 2010
Many of the provisions of the Equality Act came into force today, 1 October 2010. The single equality duty will come into force at a future date yet to be determined by government. More information is available from the Government Equalities office and will appear on the CSIE website in due course.
---
A report is not enough
14 September 2010
CSIE welcomes the publication of "A statement is not enough", the report on the special educational needs and disability review by Ofsted. This far-reaching review, commissioned in 2009 by the then Department for Children, Schools and Families (DCSF), set out to evaluate how well the legislative framework and existing provision serve disabled children and young people and/or those said to have special educational needs. The review considered provision for young people of all ages up to 19, and the contribution of social care and health services.
The report puts forward a range of concerns about the current system and, alarmingly, states that the review found evidence that the way the system is currently designed contributes to its failings. It (the review) found a virtually unanimous feeling that the special educational needs system as it stands now is unfair: those who are able to make sense of it have quicker and greater access to resources and support. The report states that parents saw the current system as requiring them to 'fight for the rights' of their children and suggests that a simpler and fairer system is long overdue. It highlights what works well and makes specific recommendations that can pave the way to a more equitable and more effective system for the 21st century.
Concerns about the state of the existing framework of assessment and provision are far from new. In 2002 the Audit Commission had published a report raising concerns that statutory assessment is a costly, bureaucratic and unresponsive process which many parents find stressful and alienating, and which leads to inequitable distribution of resources and is at odds with inclusion (Audit Commission, 2002: Statutory Assessment and Statements of SEN: in need of review?) In 2006 the House of Commons Education and Skills Select Committee published the report of its inquiry on special educational needs provision in England. The report called for a major review of SEN provision that would grant SEN a central position in the national education agenda. The report heavily criticized the then government for its unclear, if not conflicting, messages of commitment to inclusion and for its continued reluctance to review the SEN framework, which the report described as "no longer fit for purpose". Last year the Lamb Inquiry into parental confidence in the SEN framework called for a major reform of the current system.
The report expresses specific concerns about the words that we use and about the way we routinely apply them to children. It points out that different agencies use different terms and that conflicting terminology is confusing and unhelpful. It also states that vast numbers of children are inappropriately identified as "having" special educational needs. CSIE applauds these statements and urges others to take note. It has, for a long time, been argued that "special educational needs are the needs that arise within the educational system rather than the individual, and indicate a need for the system to change further in order to accommodate individual differences." (These are the words of Alan Dyson, now Professor of Education at the University of Manchester; this extract is from his article Special educational needs and the concept of change, published in 1990 in the Oxford Review of Education, volume 16, issue 1.) When adults are concerned about the progress of any child, it seems inappropriate to turn all attention on assessing the child. If a plant was not growing one would also look at the soil and if a cake was not rising one would also look at the oven. When children are not progressing, it seems self-evident that one should evaluate how the child learns AND how effective the learning environment is. The review found with alarming frequency that additional learning support focused on the completion of the task rather than on the actual learning, and that evaluations focused on whether a service was being provided rather than whether it was effective. This needs to change.
The report makes a strong case for the need to simplify legislation. It rightly points out that laws have been repeatedly amended, resulting in an excruciatingly complex set of regulations which at times is at odds even with itself. Ofsted has called upon the government to simplify legislation, so that the system is clearer for parents, schools and other education and training providers. The imperative for this is further highlighted by the fact that this is one of only seven recommendations which Ofsted has selected for the report summary. CSIE has been calling for clarification of legal issues for quite some time. We fully support Ofsted's call to simplify legislation and trust that the forthcoming Green Paper will signal the start of this process.
The Ofsted report has missed an opportunity to link the two points mentioned above. There has been growing dissatisfaction with the term "special educational needs", especially as it is often taken to imply a deficit within the child, and even Baroness Warnock herself has said that the term has outlived its purpose. So far it has seemed impossible to move away from this terminology, because it is written in to existing legislation. With the current call to simplify legislation, comes an opportunity to introduce alternative terminology that is clearer and more respectful to children and young people.
The way local authorities operate has also come under scrutiny. As previously reported in the CSIE Trends series, the Ofsted review team also found significant inconsistencies between local authorities: despite extensive statutory guidance, children and young people thought to have similar needs were not being treated equitably and appropriately across different authorities. Inspectors frequently found that pupils with a statement in one local authority were similar to those provided for at School Action Plus in another. The report expresses concern that in many authorities the pattern of local services has developed in an ad hoc way, on the basis of what has been done in the past, rather than from a strategic overview of what was needed locally. CSIE has produced The Welcome Workbook, a self-review framework to assist local authorities in such a strategic overview.
Another important contribution of this report is that it calls upon educators to focus on outcomes that are negotiated with young people and their parents. It clearly states what young people said they want for their future: successful relationships and friendships; independence, including choice about who they live with; choice about what to do with their spare time; and the opportunity to work. None of this is, of course, specific to disabled young people and/or those said to have special educational needs. Indeed, it seems shameful that these aspirations have had to be articulated in order to get people to listen. But listen we all must, and this is a wake-up call for anyone who may still think that "outcomes" are only concerned with academic achievement.
The report also raises a number of other concerns, such as over-reliance on medical diagnoses or the quality of provision for 16-19 year olds and weaknesses in transition planning. It also states what works well and makes recommendations for the future.
It follows from all the above that this report provides a clear and thorough overview of the current system, articulates what works well, makes weaknesses explicit and puts forward a series of recommendations for a fairer and more equitable system fit for the 21st century.
A report, however, is not enough. CSIE calls upon the government to seize the moment and act upon the findings of this review. It is high time that this country develops a system where parents no longer feel that they have to fight for the rights of their children.
---
Government assault on state education
29 July 2010
The Academies Bill was presented in the House of Lords on 26 May 2010, the day after the Queen's Speech outlined the Coalition Government's priorities. On the same day Michael Gove, Secretary of State for Education, wrote to all schools and invited them to express an interest in converting to Academy status. Special arrangements were made to speed the Bill through Parliament before the start of the summer recess and the legislation was passed by 317 votes to 225 on 27 July and received Royal Assent on the same day. It came into force in the most part today, 29 July.
Under the Academies Act state-funded schools in England can convert to academy status and receive increased autonomy in areas such as the curriculum they offer and the salaries they pay their teachers. Academies will be funded in a way comparable to maintained schools but will also be given their share of central funding that was previously retained by the local authority. They will be free from local authority control and directly accountable to the Secretary of State for Education. Schools that are rated 'outstanding' by Ofsted can be fast-tracked through the process and the government expects a significant number of academies to open in September. The Act also provides for new 'free' schools to be established, that will have the same legal structure and will need to meet the same requirements as academies.
Significant concerns have been raised over the process in which the Academies Act was rushed through Parliament. Graham Stuart, the Conservative chair of the Commons Select Committee for Education, invited the Education Secretary, Michael Gove, to explain why the Bill was rushed through Parliament using legislation normally reserved for counter-terror laws and argued that only "an overwhelming argument" could justify cutting short debating time. Michael Gove said that there was "ample time" for scrutiny of the Academies Bill and that the new legislation would "inject a new level of dynamism'' into the education system. The NUT issued a special edition of NUT News which calls the Academies Bill "an undemocratic outrage" and states: "The Government is by-passing constitutional and democratic processes to make the Academies Bill an Act by the summer. There is no justification for fast-tracking this Bill through parliament. The issues involved are not matters of national security or economic melt down. Rushed legislative processes make for bad law. The NUT continues to advise schools not to make the move to academy status." Chris Keates, General Secretary of the NASUWT, said: ""The arrogance and impatience with which this Coalition Government has sought to bludgeon this Bill through the parliamentary process is a disgrace." Education unions are considering legal challenges over the manner in which the Academies Act was rushed through Parliament.
Major concerns have also been raised over fears that academies will become completely unaccountable and that plans to increase autonomy for some schools will be divisive, leaving disadvantaged children to lose out. Ed Balls, Shadow Education Secretary, said the Act amounts to "a full-scale assault on comprehensive state education" and will lead to "social apartheid" in education. Christine Blower, General Secretary of the National Union of Teachers (NUT), said that "this centralisation of power completely flies in the face of the Coalition Government's stated intention to involve local communities in schools and other public services." Chris Keates, General Secretary of the NASUWT, said that the passage of this Act underlines the fact that the government "are on an ideological mission to demolish state education." Sir Peter Newsam, former director of the Institute of Education and former Chief Education Officer at the Inner London Education Authority (ILEA) recently wrote to national papers claiming that the Bill gives the Education Secretary "unprecedented powers of patronage" and that "his declared aim is to persuade, with suitable inducements, hundreds of schools in England, now accountable to democratically elected local authorities, to become directly accountable to him."
The Special Educational Consortium (SEC), of which CSIE is a member, is seen by politicians and civil servants as a key source for advice and expertise and is routinely consulted on all major special education issues. Following SEC pressure, a government amendment to the Academies Bill now ensures that all future academy funding agreements must Include details of their obligations with regard to children said to have special educational needs – the 'SEN obligations' – which mirror the duties that maintained schools have under Part IV of the Education Act 1996. This makes it clear that an academy is expected to behave as though it were a maintained school in responding to pupil diversity and is an important move towards disability equality. A SEC amendment was voted into the Act by the House of Lords and requires the Secretary of State, before deciding funding levels or making any payments under an academy agreement, to assess the impact on local authority funded services for children said to have special educational needs.
---
Some more equal than others?
20 May 2010
No matter how long you have seen a storm coming, the deluge is still unpleasant.
The full programme for partnership government for the next five years was published today (Thursday 20 May), following discussions between the Conservative Party and the Liberal Democrats. In the section on schools, the government pledges to "prevent the unnecessary closure of special schools and remove the bias towards inclusion."
We have looked for the good news, and found some. The government proposes a British Bill of Rights (the passage of which should see some interesting debates on children's rights), pledges new money to fund the proposed pupil premium, promises to help schools tackle bullying and especially homophobic bullying, and says it will ensure that all new Academies follow an inclusive admissions policy.
Most ironically, the document's opening statement on schools could have come out of CSIE's mouth: "The Government believes that we need to reform our school system to tackle educational inequality, which has widened in recent years, and to give greater powers to parents and pupils to choose a good school." Sadly, that is where the similarity ends. What constitutes educational inequality is evidently open to wide-ranging interpretations, as is the understanding of changes that are needed to enable all parents and pupils to choose a good school.
It is hard to imagine how this government would begin to justify its blatant disregard for the international call for the development of inclusive education. The Salamanca Statement of 1994 (which the then Conservative UK government had signed up to) was reaffirmed in 2009 through the UNESCO Policy Guidelines on Inclusion in Education (PDF). The United Nations (UN) Convention on the Rights of the Child has long established every child's right to education without discrimination. The UK has ratified this Convention but in the most recent examination of its implementation, our country was, once again, criticised for marginalising disabled children and failing to enable their inclusion in society. The UN Convention on the Rights of Persons with Disabilities establishes without a shred of doubt the right of all disabled people to equality and non-discrimination. Article 24 (Education) clearly calls for an inclusive education system at all levels, which enables disabled children and young people to access "an inclusive, quality and free primary education and secondary education on an equal basis with others in the communities in which they live" (emphasis added).
Perhaps the government still intends to develop the capacity of mainstream schools to provide for the full diversity of learners. Shortly before the general election David Cameron, being confronted by an angry parent dismayed at Tory policy on education, had said: "I absolutely promise you I'll never do anything to make it more difficult for children to go to mainstream school." He went on to say that at the heart of his Party's policy is the commitment to offer a real choice to all parents.
CSIE has written to the newly formed Department for Education, asking what choice is made available to parents of disabled children who want to exercise their child's right to a mainstream education, i.e. those who want their child to go to school with their brothers, sisters, friends and potential friends from their local community. With the current emphasis on personalised learning, there is no reason why tailor-made provision has to take place in a separate setting. Knowing that many parents currently find that their local authority has not yet developed provision for all learners in ordinary local schools, we also asked how the Department plans to extend real choice to all parents and offered to help in this process.
We know that no battle for human rights has ever been fought without setbacks. No doubt when previous inhumane practices were in the process of being abolished, there must have been some who, steeped within an outdated frame of mind, vehemently opposed the abolition of slavery, or child labour, or… one day we may be able to say segregated education.
CSIE looks forward to the day when our society collectively and unanimously looks back in disbelief at the time when a small minority of young people were routinely ostracised from their local communities, in the name of their own good.
Note: some of the documents on this page are in PDF format. In order to view a PDF you will need Adobe Acrobat Reader
---
Swift changes
12 May 2010
The UK finds itself in unchartered waters as the Conservative Party agreed to form a coalition government with the Liberal Democrats and the new government took office yesterday (Tuesday, 11 May). The two parties have published their Coalition Agreement, presenting the positions agreed between the two parties on a range of issues where they had previously declared contrasting views. A final Coalition Agreement covering the full range of policy issues is expected to follow in due course.
The current Coalition Agreement, dated 11 May 2010, covers the following issues: Deficit Reduction; Spending Review (which includes a commitment to fund a significant premium for disadvantaged pupils from outside the schools budget by reductions in spending elsewhere); Tax Measures; Banking Reform; Immigration (which includes the long-awaited commitment to end the detention of children for immigration purposes); Political Reform; Pensions and Welfare; Education (see below); Relations with the EU; Civil Liberties (which include outlawing the finger-printing of children at school without parental permission); and Environment.
With regard to Education, the Coalition Agreement states:
Schools
We agree to promote the reform of schools in order to ensure:
- that new providers can enter the state school system in response to parental demand;
- that all schools have greater freedom over curriculum; and,
- that all schools are held properly accountable.
Higher education
We await Lord Browne's final report into higher education funding, and will judge its proposals
against the need to:
- increase social mobility;
- take into account the impact on student debt;
- ensure a properly funded university sector;
- improve the quality of teaching;
- advance scholarship; and,
- attract a higher proportion of students from disadvantaged backgrounds.
If the response of the Government to Lord Browne's report is one that Liberal Democrats cannot accept, then arrangements will be made to enable Liberal Democrat MPs to abstain in any vote.
The Department for Education was formed today (Wednesday, 12 May) and will be responsible for education and children's services. It takes the place of the Labour Government's Department for Children, Schools and Families (DCSF), whose name and colourful rainbow logo now belong to history. Conservative Party MP Michael Gove has been appointed Secretary of State for Education, while the Ministerial Team is expected to be named in the next few days. In an e-mail to civil servants Michael Gove said: "In the weeks ahead, I want us to offer all schools the chance to enjoy academy-style freedoms so that heads and teachers across the country can be liberated. This will be the focus of the legislation we hope to bring forward later this month." It is widely expected that legislation for education will be announced in the Queen's speech on 25 May.
---
Children's rights after the election
04 May 2010
The Children's Rights Alliance for England (CRAE) wrote to the children's spokesperson for each of the three main political parties asking how they would protect the human rights of children, were they to form the next Government. Today, CRAE has published their responses. In their responses to six broad children's rights questions, Ed Balls (Labour) and David Laws (Liberal Democrats) indicate how their Parties would approach the Government's legal obligations under the Convention on the Rights of the Child. Michael Gove (Conservatives) declined to respond to the questions and directed CRAE to his Party's Election manifesto.
CRAE has produced a short briefing paper which explains the reasons behind the six key questions asked and presents the politicians' answers in an easy-to-read table.
---
That isn't choice
28 April 2010
"That isn't choice; that is actually putting barriers up for parents who want their children to be part of their local community" says London parent Jonathan Bartley, speaking about the rhetoric of parental choice without the political will to enable the choice of mainstream for all.
Mr Bartley has described how he was on his way to a hospital appointment with his son Samuel, who was in his wheelchair wearing his local school uniform. They were approached by a Conservative Party official asking if they would like to meet David Cameron, who was talking nearby, and accepted the invitation. They were then positioned in an appropriate place, the photographers gathered around them and soon David Cameron appeared and was introduced to them. Did Conservative Party officials see a disabled child and assume his parent would welcome Tory support for segregated education? Not this parent.
The two men, although sharing the experience of being father of a disabled son (Mr Cameron's son Ivan died last year), spoke with passion about their opposing views on education priorities for disabled children or those said to have special needs. See how the BBC and Sky News reported their exchange.
Mr Bartley voiced a strong concern about Tory plans to end "the bias towards the inclusion of children with special needs in mainstream schools", as expressed in the Conservative Party Manifesto, and spoke of his family's two-year struggle to get a place for Samuel in his local mainstream school. "His two sisters go there, it's our local school, we have had to struggle for two years and in the end the Secretary of State had to intervene. There is a bias against inclusion and you are saying there's a bias for it."
Mr Cameron said that his Party wants to give a choice to all parents. With his hand on his heart, he added: "I absolutely promise you I'll never do anything to make it more difficult for children to go to mainstream school." He went on to say: "At the moment, people don't get what they want. You didn't get what you wanted, I didn't get what I wanted. We both had to fight. We are going to make it easier by making sure that statements [of special educational needs] are not provided by local education authorities, they are provided by someone separate."
Reflecting on the experience later, London parent Jonathan Bartley said "I don't know what they were hoping for, maybe a good photo opportunity. But I hope actually this has put special needs firmly on the election agenda because it hasn't been discussed so far." He also explained more about his position: "Actually, you need a bias towards inclusion. You have to make it happen. The problem, the failure I think of this [current] government has been that it's talked about inclusion but it hasn't actually pushed to make it happen. You've got to resource mainstream schools. You've got to provide a culture of inclusion. You've got to invest in the training and the support and that actually hasn't always happened. And so now to say because that hasn't worked and a lot of parents have been let down and now want to send their children to special schools, now to say they are going to reverse what's been going on, which is already a bad situation, will make it worse. That isn't choice; that is actually putting barriers up for parents who want their children to be part of their local community."
The Conservative Party is not alone in talking the talk of "parental choice". The three main political parties maintain that mainstream education is a matter of parental choice. At the same time, a number of practitioners still believe that mainstream education is not possible for some children. The contradiction has not yet been acknowledged and a minority of children continues to be consistently excluded from their local community. Many mainstream schools operate in ways which rule out the presence, participation and achievement of children perceived to have most complex needs. Despite the rhetoric of "parental choice", schools that turn disabled children away are neither challenged nor encouraged to develop more inclusive provision for all. CSIE has questioned the DCSF about this and constantly seeks ways to address this discrepancy. We invite our readers to keep asking the question: how will the government enable the choice of mainstream for parents who are told that, in their local authority, there is no suitable mainstream provision for their child?
---
New CSIE publication
13 April 2010
CSIE is delighted to announce the release of our new publication: Developing a single equality policy for your school: a CSIE guide.
Written for, and in collaboration with, school leaders, this is a practical resource to help schools comply with existing legal duties to promote race/ethnicity, disability and gender equality and to promote community cohesion. Much more than offering help to complete a paper exercise, the guide invites schools to explore their position on a range of equality issues and to shape provision in line with it.
The guide outlines the existing legal duties and suggests how the new Equality Act is likely to affect these when it comes into force. It then sets out a practical framework for writing and reviewing a single equality policy and presents two examples of existing policies. The guide's content, presentation and practical suggestions can support schools in considering fundamental principles of equality for all, particularly those at risk of discrimination or marginalisation.
This CSIE guide is particularly relevant to:
Ofsted's emphasis on equality and diversity
Schools' statutory duty to promote race, disability and gender equality
Schools' statutory duty to promote community cohesion
Developing inclusive provision for all learners
Copies are available at the reduced price of £15 each or £12 each for orders of 10 or more, if ordering directly from CSIE. Review copies are also available; please email admin@csie.org.uk stating your name, address and details of where your review will appear.
---
Disability Hate Crime
15 March 2010
On 10 March David Askew, a 64-year-old man with learning difficulties, collapsed and died at his home in Manchester after ten years of "baiting" and "relentless bullying" by local youths. Neighbours claimed he had been "tormented to death." He was called names by young people who threw eggs and bricks at his house, kicked the door and took his money and cigarettes. A postmortem examination is being held, and the coroner has pledged to "ensure that no stone remains unturned." An 18-year-old man has been arrested on suspicion of manslaughter. Police claim that they had tried to take measures to protect David. However, neighbours claim to have stopped complaining to them a year ago "because nothing gets done." David's death coincides with the announcement that 10 Leicestershire police officers are under investigation over the deaths of Francecca Hardwick (who had learning difficulties) and her mother Fiona Pilkington in September 2009 ( www.csie.org.uk/news ) after being bullied by neighbours. The inquest jury in this case found that police inaction contributed to their deaths, and that their calls for help had not been prioritized. The Independent Police Complaints Commission has commented that there is substantial work still left to do in this area.
Although the media give such incidents more column space than before, it is clear that institutionalised disablism is still inherent in our police and public services, despite Mencap's call after the Leicestershire tragedy for hate crimes against disabled people to be treated as seriously as racist offences. A civilised society extends its respect and protection to all, on an equal basis. Likewise, the institutions of a civilised society – its systems of education, housing, leisure and employment – extend an invitation to all, with the result that people grow up with a mutual appreciation of each other and of the full range of human diversity. Without this, the tragedies of David and Francecca will be repeated. The conclusion has to be drawn that ours is not yet a civilised society.
---
Report of the Salt Review
04 March 2010
The Salt Review published its final report and submitted it on 25 February to the Secretary of State. The Review was commissioned as one of several measures aimed at providing better support for disabled children and/or those said to have special educational needs.
The Salt Review specifically focused on the decline in supply and training of what it refers to as "specialist" teachers, for children identified as having "severe" or "profound and multiple" learning difficulties. It notes "the very positive policy to promote inclusion" in recent years, but notes that specialist training was accordingly removed from Initial Teacher Education and offered instead through continuing professional development. This was done on the expectation that any teacher may have to teach a child or young person with high level support needs (those the report identifies as having "severe" or "profound" learning difficulties). The Review calls this "a gap left in the system," and places much emphasis on providing the "distinctive pedagogical approaches" needed to fill it.
Some of the report's recommendations are encouraging. It acknowledges that some children and young people – nearly a quarter of the population it looked at – are in mainstream, and anticipates that this percentage will increase. It appropriately suggests that some ordinary schools feel unable to provide for young people with high level support needs, thus evading the common deception that some children's needs are so "profound" that they cannot be included in mainstream. Finally, the report makes training recommendations that are specifically for mainstream schools: local authority provision of "bespoke induction" for mainstream teachers; clarification of the routes by which teaching assistants can qualify as teachers; and the funding of special schools as leaders to train mainstream schools in how to deliver support (though it does not address the problem of how this can be achieved by a sector whose own resources are stated to be in a weak condition).
Most of the report's recommendations concern the segregated sector. In particular it notes the absence of younger teachers here: 45% of special school staff are aged over 50, but only 27% of mainstream staff. While stopping short of asking for the reintroduction of "specialist" routes in initial teacher education, it seeks to remove certain "myths": that initial teacher education cannot take place in a special school, or that newly qualified teachers have to complete their first year in a mainstream school. What effect this will have remains to be seen. An alternative interpretation of the above evidence might be that younger teachers have themselves grown up in a more inclusive society and do not want to work in places where children visibly lack the company of brothers, sisters, friends or potential friends from the local community.
One question remains: training and expertise for what purpose? What is it that we want to achieve? When disabled young people and/or their parents are asked what they want to gain from education, they rarely fix their gaze on conventional attainment targets, which may even be irrelevant to them; instead, they often focus on social relationships of their own and a place in the wider community. If that is the case, then the kind of expertise needed surely lies more in the area of person-centred planning than of traditionally conceived lessons. In fact the basic pedagogic principles are the same for educating all children. It is not so much skills or training that are needed: above all it is a willingness to find ways to include all young people in ordinary local schools, the support to do so and the confidence that comes from this experience. No matter what professional development opportunities are available, unless ordinary local schools become more willing to make space for everyone, teachers will not be able to build up the confidence that the report suggests they lack.
---
Disability hate crime reaches the news
24 September 2009
The inquest on the killing of learning-disabled Francecca Hardwick and the suicide of her mother Fiona Pilkington after being bullied by neighbours seems to have led to a change in the way such matters are reported in the press. Most of the daily and free newspapers have cited Mencap's suggestion that hate crimes against disabled people should be treated as seriously as racist offences, and have reported that police ignored Fiona's requests for assistance. This is probably the first time such a call has been widely aired in the media and given due weight. At the same time, the media have continued to spray the usual demeaning clichés over this story. Francecca is said to have had "a mental age of four", thus perpetuating the demeaning representation of learning-disabled adults as mere children. Nevertheless, the equation of disablist attitudes with racist ones should lead the public to the wider, justifiable perception that alongside insitutionalised racism on the part of those enforcing the law there is also institutionalised disablism, and that it too needs to be tackled.
---
Welcome Seminar
17 September 2009
On 16 September CSIE held a national seminar in London to discuss the draft of its forthcoming publication, The Welcome Workbook. This is a self-evaluation tool for people working in local authorities who want to find ways of reducing segregation and of helping to enable local mainstream schools to include more children, especially those perceived to have the most complex needs. It has already been piloted by three local authorities. At the seminar a group of disabled people, parents, senior local authority officers and persons from Ofsted, the DCSF and the Department of Health met to discuss and help improve the document, which is due to be launched on 8 December.
---
The effect of teaching assistants on achievement
6 September 2009
Research undertaken at the University of London's Institute of Education hit the media headlines in early September, following the publication of the final report on the deployment and impact of support staff in schools (DISS) project. This was a large-scale five-year study covering England and Wales, which reported that teaching assistants boost teachers' productivity but not pupils' progress in English, Maths and Science. When a government-funded report claims that teaching assistants impair children's progress, perhaps the time has come at long last to sit up and reconsider what is unproblematically accepted as common practice. As CSIE's publication Learning Supporters and Inclusion flagged up nearly a decade ago, learning supporters are often being asked to take on considerable extra responsibility at low pay, minimum job security and often with insufficient training. In a system that seems to be sustained largely by the goodwill and commitment of the individuals involved, the time for change is long overdue. Last but not least, let us not forget the qualitative impact that learning supporters can have on young people's lives. Every single learning supporter stands to have a hugely significant impact on the experience children have in mainstream schools and on everyone's sense of belonging in the school community. Equating children's progress with their academic achievement is only a narrow view of progress. Worse still, evaluating the impact of support staff by such a narrow view of progress seems to do little more than add insult to injury.
---
New Government White Paper
30 June 2009
Today (30 June 2009) the government published its new White Paper on education Your child, your schools, our future: building a 21st century school system, which pulls together many previous government initiatives in order "to create a world class education system and build a skilled workforce for the future". Among other things, it marks the end of the national strategies; requires all teachers and heads to have a "licence to teach", renewable every five years; stipulates a legally enforceable admissions code; and promotes chains of schools run by "accredited schools groups".
Earlier this year CSIE called upon all its contacts to respond to the Government's consultation document in preparation for this Paper, which failed to engage with inclusive education. The response was magnificent. The White Paper now launched says more about inclusion than the original consultation document did. But it is also highly ambiguous. The Equality Impact Assessment attached to it quotes Ofsted with approval on the subject of disability: "Children with special educational needs can make outstanding progress through high quality teaching and an inclusive environment". It could hardly do otherwise, since the DCSF's generic guidelines on equality impact assessments call for "the removal of barriers between disabled and non-disabled people".
Yet the main body of the White Paper pursues the equivocations we have become used to. Section 3.11 calls for "the range of providers – mainstream schools (with or without) and special schools – [to] work in partnership", with special schools as "leaders in teaching and learning practice for children with the most complex learning difficulties, including Profound Multiple Learning Disabilities, in shared governance arrangements" with mainstream schools. This is "important", it says. It does not say whether this co-locational model will be the case, or whether it simply may be the case.
Nor does one know what to make of the following: "We reaffirm parents' right to exercise choice over the type of school for their child with special educational needs or a disability. All 21st century special schools should have high expectations for what their pupils can achieve, promote the skills and confidence needed for independence in adult life, provide opportunities for disabled and non-disabled children to play and learn together and share their expertise – whether in leadership, special educational needs or the curriculum – with other schools". It does not say how this can happen if children are not in the same classroom, let alone the same building. How are children to have friends, be part of their local community and remain so as adults? This hazy language palpably sweeps the question under the carpet.
A more encouraging note is the reaffirmation (above) of the right to a parental choice of mainstream. This echoes recent ministerial statements and those of shadow ministers, and shows that people across the political spectrum no longer feel as morally comfortable as they once did about legally enforceable segregation. What the White Paper does not say is how or indeed whether the DCSF will play any part in making choice of mainstream a reality, especially for those children perceived to have the most complex needs.
Another mildly encouraging note is struck by 3.12, which says that the school "may" use some of its resources to "take some responsibility for pupils in the area more widely" apart from those on its own roll, and for the wider community, making this "a key responsibility of the governors of the school."
CSIE will be working to put flesh on the bones of any opportunities the White Paper provides for pursuing the human rights of children.
---
Damehood for CSIE patron
22 June 2009
Formerly known as Dr Philippa Russell, CSIE's patron and former trustee of our organisation has recently been made a dame in the Queen's birthday honours list for services to disabled children, young people and family carers. Previously she had been awarded an OBE for her work with children with special educational needs and their families and the CBE for services to disabled people. Dame Philippa Russell has recently been reappointed as Chair of the Standing Commission on Carers, for a term of three years. She is also Disability Policy Adviser to the National Children's Bureau and was formerly a Commissioner with the Disability Rights Commission and Director of the Council for Disabled Children.
---
Convention ratification
8 June 2009
The UK government has today ratified the United Nations Convention on the Rights of Persons with Disabilities. Or at least that is what the public announcements say. In fact, the government has hedged its ratification with several interpretive declarations and reservations, including the following addendum to Article 24, on education:
"The United Kingdom Government is committed to continuing to develop an inclusive system where parents of disabled children have increasing access to mainstream schools and staff, which have the capacity to meet the needs of disabled children.
The General Education System in the United Kingdom includes mainstream and special schools, which the UK Government understands is allowed under the Convention.
The United Kingdom reserves the right for disabled children to be educated outside their local community where more appropriate education provision is available elsewhere. Nevertheless, parents of disabled children have the same opportunity as other parents to state a preference for the school at which they wish their child to be educated."
The Government inserted paragraph 1 only at the eleventh hour, after intense lobbying from the United Nations Convention Campaign Coalition, of which CSIE is a member and which has been campaigning for full ratification of the Convention without reservations or interpretive declarations of any kind. The crucial item missing from paragraph 1 is a deadline by which the government intends to have met the commitment it has signed up to. Moreover, the absence of a deadline renders paragraph 2 ambiguous and in possible contravention of the principles behind the Convention, since article 24 clearly asserts: "States Parties shall ensure an inclusive education system at all levels"
In refusing to give a deadline, the government is also ignoring the second UN committee report on the UK's implementation of the UN Convention on the Rights of the Child, which last October criticised the government for its continuing lack of a comprehensive national strategy for the inclusion of disabled children into society. In attaching both an interpretive declaration (paragraph 2) and a reservation (paragraph 3), the Government also finds itself contradicting the European Union legislature, which managed to ratify Article 24 without any declarations or reservations, as have virtually all the 58 UN member nations that have so far ratified.
CSIE will be campaigning alongside disabled people's organisations and their allies to remove all interpretive declarations and reservations. The UN's own monitoring process on implementation, the Committee on the Rights of Persons with Disabilities may also come into play. CSIE was extensively involved in the writing of Article 24 and in campaigning for full ratification.
---
Revision of the Index for Inclusion
23 April 2009

The popular CSIE publication "Index for Inclusion: developing learning and participation in schools" was first published in 2000. At that time, the Department for Education and Employment (DfEE) had funded the distribution of a free copy to all primary, secondary and special schools and LEAs in England. Since then, the Index has been revised (2002) and an Early Years version has been produced (2004) and revised (2006). During this time the Index has acquired an impressive international reputation: it has been translated in over 30 languages, while requests for new translations continue to be made.
Professor Tony Booth, principal Index author, and CSIE have recently launched a revision of the schools version of the Index; the new, revised edition is expected to be available early in 2010. Our aim is to further develop this popular resource so that it reflects the current educational context of our country and becomes even more easily accessible and user-friendly for busy school staff.
Have your say
We are very keen to hear the views of school and local authority staff. Please let us know what you have found helpful in the Index and what changes you would like to see in the next edition. We want to hear from you however detailed or deep your use has been or even if you have considered but rejected using it.
We have included some questions to prompt your response. Please feel free to respond to some or all of them.
What do you like most about the Index for Inclusion?
How have you used the Index in your school?
If you have not used the Index, are you using an alternative resource and, if so, what?
What do you think are the barriers to using the Index in schools and how could these be overcome?
What changes would you like to see in the Index to make it more relevant and accessible to you?
What would be your preferred format for the revised Index? (ring-binder, folder, book, DVD, web-based)
Is there anything else you want to tell us about the Index?
Please send us your comments either by post (CSIE, New Redland Building, Coldharbour Lane, Frenchay, Bristol BS16 1QU) or by email at indexrevision@csie.org.uk by the end of May. Thank you.
---
UK Government held to account
1 April 2009
The Northern Ireland Education Minister has thrown a spanner in the works of the UK government's intention to make a reservation on Article 24 (Education) when it ratifies the UN Convention on the Rights of Persons with Disabilities. The UK Minister for Disabled People, Jonathan Shaw, had stated at a meeting of the parliamentary Joint Committee on Human Rights that the devolved administrations in Scotland, Wales and Northern Ireland concurred with this approach. On 27th March, however, the Northern Ireland Minister of Education, Caitríona Ruane, stated that the Convention, including Article 24, should be ratified "without reservations or interpretative declarations ... It is important that children with special educational needs or disabilities can be educated together with other children and they all have access to the same range of educational opportunities." In addition, a statement from the Northern Ireland Human Rights Commission declared that it was "concerned that the proposed reservation and declaration in respect of education could hinder progress towards the inclusion of disabled children in mainstream education in Northern Ireland".
As a consequence, on 30th March CSIE wrote to Jonathan Shaw (Word, 65Kb) to ask how he proposed to respond to her recommendation. In addition, Alasdair McDonnell MP has today (1 April) tabled a parliamentary question asking Mr Shaw to (i) outline his response to the Northern Ireland Education Minister's public statement declaring opposition to the proposed reservation on Article 24 of the UN Convention on the Rights of Persons with Disabilities; (ii) to detail the impact of this opposition on previous claims that all of the devolved administrations concurred with this proposed reservation; and (iii) how, in light of this opposition in the devolved administration in Northern Ireland, he now sees the proposed reservations as necessary for England, Scotland and Wales.
There will now be a delay in the ratification process which provides a window of opportunity, and CSIE is urging all its contacts to write again to ask Jonathan Shaw to reconsider and to ratify the Convention without reservation or interpretative declaration. The possibility is now all the greater, inasmuch as the above shows how parts of the UK's own administration are at odds with his decision.
---
CSIE questions the extent of "parental choice"
11 March 2009
CSIE has written to Ed Balls, Minister for Children, Schools and Families, asking for clarification on the principle of "parental choice" and offering practical support to the DCSF in its work towards developing more inclusive provision throughout the UK. CSIE asked the Minister if the DCSF's commitment to "parental choice" is limited to respecting a wish for segregated education, or whether it extends to honouring the choice of parents seeking a mainstream school place for their disabled child. If it is an honest and full commitment, CSIE argued, there is no need for a reservation on Article 24 of the UN Convention on the Rights of Persons with Disabilities, because the DCSF should be seeking to develop inclusive provision in every locality, in order to make the option of a mainstream place a real choice.
---
Children's rights denied
3 March 2009
Jonathan Shaw, Minister for Disabled People, has expressed the UK Government's proposed intention to attach a number of reservations to its ratification of the United Nations Convention on the Rights of Persons with Disabilities. These were presented by the minister to parliament on 3 March. CSIE has joined with 31 other organisations representing the entire spectrum of the disability movement in expressing our indignation at this.
Article 24 of the Convention commits the world to developing an inclusive education system where mainstream schools develop the capacity to include all disabled children and students. However, despite the many representations made by CSIE and disabled people's organisations in writing to the Minister for Disabled People and in person to the minister responsible for Article 24 at the DCSF, the UK government seems to think it can pick and choose which rights to uphold and which to discard.
First, it intends to append an "interpretative declaration" to Article 24. This article stipulates for disabled children an "inclusive" education "within the general education system". However, the minister has formally proposed to parliament that the UK government attach a declaration which interprets this as follows: "The General Education system in the UK includes mainstream and special schools, which the UK government understands is allowed under the Convention." Indeed it is not. The Convention clearly states the right to inclusion, and the UK's interpretation contravenes the very principle enshrined in it. Secondly, the minister has also proposed that the government attach a reservation whereby "The UK reserves the right for disabled children to be educated outside their local community where more appropriate." CSIE, along with all other members of the United Nations Convention Campaign Coalition, is calling on every one of our contacts to write to their Member of Parliament opposing this denial of disabled children's fundamental human right to an education alongside their non-disabled peers, and to urge members to demand that the government ratify the Convention without any reservations or interpretative declarations, and to drop the ones that are proposed. For details on how to do this, see the entry below (13 February).
---
Call to action: CSIE invites inclusion supporters to write to their MP and/or the Prime Minister in support of ratification without reservations of Article 24 (Education).
13 February 2009
The UK government is preparing to ratify (bring into UK law) the United Nations Convention on the Rights of Persons with Disabilities. Governments can either ratify a Convention in full or express one or more reservations or interpretive declarations, to clarify their intentions and/or indicate which parts of the Convention they do not plan to implement. The UK government is considering placing four reservations (more than the total reservations placed by 47 other countries that have already ratified this convention) and, alarmingly, is considering a reservation on Article 24 (Education). CSIE urges all inclusion supporters to act now and help make the voice for inclusion heard.
The facts
The Convention
A landmark international treaty, the Convention sets out in detail all disabled people's rights and a code of implementation. A key document of the 21st century, all the more significant because it marks a paradigm shift in perceptions of disability. Article 24 stipulates an inclusive education system at all levels and specifies that disabled learners should not be excluded from the general educational system. The Convention has been written in collaboration with disabled people and spells out what should be in place in every country, so that disabled people can enjoy full and effective participation and inclusion in society. It was certainly not intended to offer a list of rights for governments to choose which ones to uphold and which not.
For more information on the Convention see the United Nations' Enable website.
The DCSF's position on Article 24
The UK can provide inclusive education in special schools, thinks Ed Balls; he wants to issue an interpretive declaration to say that special schools are part of a range of provision that makes up the country's general education system. The UK would then be free to continue systematically discriminating on the grounds of disability. But this is not all. Article 24 (para 2b) requires disabled pupils to access an inclusive, quality and free education on an equal basis with others in the communities in which they live. The DCSF want to place a reservation here, so that disabled children can continue to be placed in day or residential special schools miles away from their home. Parents have to be offered the choice of special schooling, says the DCSF, and if this is miles from home then so be it. Such a reservation would perpetuate the long-established cruel system of educational apartheid.
For more information on the DCSF position see Appendix C of the Secretary of State's report on disability equality.
CSIE's position on these issues
The DCSF's insistence to contravene children's basic human right in the name of parental choice is unacceptable. The Department does not allow parents the choice of physically attacking their children or of subjecting them to conditions of child labour. Why allow them to breach their child's right to education without discrimination? In any case, parents formulate their choices within an existing context, not in a vacuum; in the current educational context many mainstream schools still feel ill-equipped to educate disabled learners. As more mainstream schools become willing and able to include all learners, parental choice for special schools is likely to diminish.
Special schools were established at a time when disabled people were not part of mainstream society. Our thinking has moved on and so should our educational practice. The imperative for inclusive education for all has not yet been fully understood; wider awareness of the social model of disability is needed. In assessing some children's "needs" many processionals still focus on physical, sensory or mental impairments and place children in institutions alongside others with similar impairments. No adult would choose their workplace by these criteria. It is unethical to deprive disabled children of the opportunity to grow up and learn alongside their non-disabled peers, and vice versa. The moral argument for inclusion is strong and remains undisputed. On the other hand there is a strong lobby of parents and professionals, many of whom have a vested interest in a particular school, insisting that special schools are necessary because they offer specialized provision not available in mainstream schools. We must not let the mistakes of the past shape our future. What is missing is consistency in the capacity of mainstream to respond to today's inclusive values. With the current emphasis on personalized learning, there is no reason why "specialized provision" cannot be made available in mainstream. Indeed, in many places, it is.
The government cannot pick and choose which rights to uphold -- this is unethical and an insult to the dignity of disabled people. Speak up now!
What you can do
a) Write to your MP
Every message helps. Whether you spell out your detailed thoughts or drop a quick line to ask for ratification of the Convention WITHOUT RESERVATIONS, your voice counts.
To do this, go to the they work for you website, enter your postcode and, on your MP's page, click on the option to send a message. It's as simple as that and it needn't take more than a few minutes.
b) Write to the Prime Minister
Many others are writing to him about this. The more letters he receives, the more likely he is to listen. Help him understand why a reservation on Article 24 is unethical or simply tell him how appalled you are that his government is considering this reservation.
To do this, address your letter to "Dear Mr Brown" or "Dear Prime Minister" and post to: The Rt Hon Gordon Brown MP, 10 Downing Street, London SW1A 2AA or fax it to 020 7925 0918. Emailing Gordon Brown may soon become possible; you can find out on the Number 10 website.
c) Ask your family, friends and colleagues to do the same.
Do all three and give yourself a pat on the back. The sooner you do this the better; the government is still considering its position but may announce its decision in March.
Thank you in anticipation of your action. Every voice counts - united we are stronger!
---
CSIE writes to the Prime Minister
5 February 2009
CSIE has written to the Prime Minister (PDF 54Kb) expressing its deep concern at the government's response to ratification of Article 24 (Education) of the UN Convention on the Rights of Persons with Disabilities. We argued that there is no need for a reservation and that failure to ratify without reservations would bring the UK government into disrepute with other governments worldwide. We also argued that it was unacceptable for ministers at the Department for Children, Schools and Families (DCSF) to go against usual practice by refusing a meeting with the UNCCC coalition, which represents the entire sweep of disabled people's organisations nationally.
---
The UK government has announced its intention to sign the Optional Protocol to the United Nations (UN) Convention on the Rights of Persons with Disabilities
3 February 2009
In a written response to a Parliamentary Question, Jonathan Shaw, Minister for Disabled People, confirmed that the government intends to sign the Optional Protocol to the UN Convention on the Rights of Persons with Disabilities. The government signed the Convention on the first day it opened for signature (30 March 2007) and has been considering its position on ratification of the Convention and on signature of the Optional Protocol ever since. To date, there have been 137 signatories and 47 ratifications of the Convention, 81 signatories and 28 ratifications of the Optional Protocol.
The Optional Protocol creates additional functions for members of the UN Committee on the Rights of Persons with Disabilities, such that they can engage in individual communications and inquiries. In other words, individuals or groups of individuals who feel that their rights have been breached, can take their case to the UN Committee that has a remit to monitor the implementation of the Convention.
For more information on the Convention and the Protocol please see the United Nations' Enable website
---
Note: some of the documents on this page are in PDF format. In order to view a PDF you will need Adobe Acrobat Reader