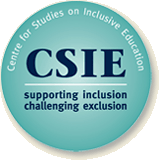 Centre for Studies on Inclusive Education
supporting inclusion, challenging exclusion
responses to consultations 2003-06
November 2003
CSIE response to the Department for Education and Skills consultation on the draft guidance to Local Education Authorities and schools, Working Together Giving Children and Young People a Say
CSIE points out that schools in England have been slow to catch up with what has been a long tradition in many other countries of listening and involving children and young people in decision making in schools. The Centre suggests that it is crucially important that the opportunity is now fully grasped to give a clear message to schools that they are expected to have in place structures and procedures which make sure that pupils¹ voices are taken into account.
---
September 2003
CSIE Response to 'A Focus on Change' - Consultation on a New Strategic Plan for the Disability Rights Commission for 2004/5 to 2006/7
CSIE suggests that as education is key to social inclusion for disabled people it should continue to be a priority for the Commission's work. It will be crucial to stress that it is only inclusive education - not segregated 'special' education -- which has the potential to deliver the DRC's core goal of greater participation by disabled people as equal citizens.
---
July 2003
CSIE Response to the Mayor's Draft Children and Young People's Strategy for London
The Centre is concerned about a major gap in the areas of concern covered by the proposals. Although the draft strategy focuses on promoting inclusion for children and young people, there is no reference to the equally pressing need to challenge segregation.
---
June 2003
CSIE response to the Department for Education and Skills Consultation for the Special Schools Working Group Report
CSIE recommends targets for the phased closure of special schools with retention and transfer of all appropriate specialist provision and resources to mainstream.
---
Note: some of the documents on this page are in PDF format. In order to view a PDF you will need Adobe Acrobat Reader
Page last updated: Sunday 20 May 2018