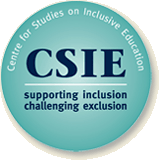 Centre for Studies on Inclusive Education
supporting inclusion, challenging exclusion
online booking form
You may book for any of our training events by submitting the online form below.
booking conditons
Booking requests must be submitted in writing (electronic or hard copy). Payment must be received before a booking can be confirmed. Confirmation will be sent within 10 working days of receiving payment. If you do not receive confirmation within this time, please contact us at training@csie.org.uk.
Cancellation requests must be made in writing. In the event of a booking being cancelled up to 10 working days before an event, payment will be refunded in full. In the event of a booking being cancelled 10 working days or less before an event, a £10 administrative charge may apply and a refund will only be offered if a replacement is found.
In exceptional circumstances, CSIE may need to cancel or rearrange an event and reserves the right to do so without liability. Should this be the case, a new date or a full refund will be offered to all confirmed participants.
£90 + vat
(total - £108.00)
HALF PRICE offer: Places available at £45 +VAT (total £54) to delegates who participate in a 30-minute focus group discussion. This will take place straight after the workshop, to explore further ways in which CSIE can help schools promote equality.
Page last updated: Sunday 20 May 2018