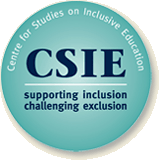 Centre for Studies on Inclusive Education
supporting inclusion, challenging exclusion
supporting inclusive development through equality audits
CSIE offers support for schools wishing to carry out an equality audit. Our work is framed around our go-to guide Equality: Making It Happen - A guide to help schools ensure everyone is safe, included and learning and is tailor-made for each individual school, usually involving the whole school community: pupils, parents, staff and governors.
About the process:
We will ask to visit your school at the start of the process, to talk to pupils and key members of staff and get a feel of everyday life in school. This will also give us an opportunity to discuss and confirm the focus and parameters of the equality audit and ensure that any specific issues identified by the school are included in it. We will then make a proposal and invite your comments on what information to collect, from whom and how. We will set up a survey (online, on paper or a combination of the two, depending on what is right for your school) and invite responses from all members of the school community. Schools that have opted for a paper survey will have the option of transferring the information online and submitting all responses electronically, to keep costs down. When the survey has closed we will collate all responses and present the outcomes in a report, highlighting significant issues and making recommendations for the future. The report will include information on: the overall school environment; equality and respect in everyday interactions; respect for diversity; learning and participation; behaviour and well-being; and summary and conclusions. We will ask to visit your school once more to discuss the outcomes of the equality audit with relevant staff. We will negotiate all of the above with you and move forward in ways which best reflect your choices.
The equality audit will:
engage the whole school community;
prompt a thorough examination of everyday practices;
enable detailed exploration of equality issues from multiple perspectives;
confirm aspects of school life where diversity is understood and celebrated;
clarify areas where respect for diversity can be strengthened;
highlight areas where people's rights may be at risk of being breached;
provide rich information leading to a tailor-made action plan, if one is needed;
address all protected characteristics mentioned in the Equality Act 2010; and
assist the school in meeting its legal duties under the Equality Act 2010.
Cost:
£1,500+vat for schools with up to 250 pupils £1,800 +vat for schools with 251-750 pupils £2,200 +vat for schools with 751 pupils or more
To request a booking, please complete and submit the online booking form. Thank you, we look forward to hearing from you!
Page last updated: Thursday 01 February 2018